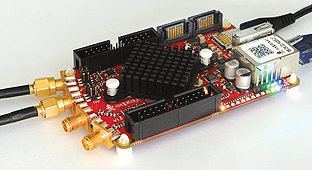 Red Pitaya is a innovative single-board, open instrumentation and control platform which replaces many expensive laboratory and field instruments at a much lower price.
Functionality
Red Pitaya is a low cost but high spec, palm sized, PCB based electronic device which provides the following functionality:
Oscilloscope
2 channels @ 125 MS/s 14 bit digital with external or signal based triggering capability.
Spectrum Analyser
2 channels with 50 MHz bandwidth signal with waterfall diagram capability.
Arbitrary Waveform Generator
2 channels @ 125 MHz 14 bit arbitrary waveform generation with external triggering capability.
Frequency Response Analyser
2 channels with 60 MHz bandwidth.
The HDMI (screen) for the device can be connected to most existing devices in the field today
E.g. Laptop, Smartphone, Tablet, etc.
2×2 MIMO PID Programmable Controller
Functionality Hardware
Key Benefits
• Low cost;
• Compact size;
• Can be coded for bespoke applications;
• A growing open source development community;
• Flexibility to connect to a range of existing devices for display;
• Board can be housed in a standard or customised (possibly 3D printed case) or incorporated into a larger instrument as part of its functionality.
Aurocon Compec
www.compec.ro
www.designspark.com