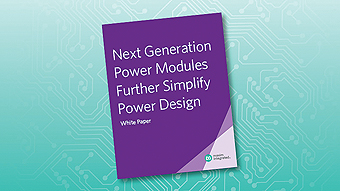 A new white paper from Maxim Integrated Products, Inc. examines how a new generation of flexible, easy-to-use power modules simplifies power design. Ready-made power modules enable system designers to shorten time to market and solve space constraints on their printed circuit board (PCB).
The white paper, "Next Generation Power Modules Further Simplify Power Design," explains how these highly efficient power modules integrate all the key components needed for a smaller system-in-package (SiP) power solution. Using Maxim's new DC-DC power modules, customers can now combine the passive compensation components needed with the voltage regulator for a single, small, power-supply solution in an IC package.
• Register for the white paper to learn about the benefits of smaller, simpler, and more flexible power modules: http://goo.gl/S9aiy0
• For a list of Maxim's new power modules, visit: http://goo.gl/AaT93e
• For more information, visit: http://goo.gl/XvYUqI
All trademarks are the property of their respective owners.
Maxim Integrated
www.maximintegrated.com