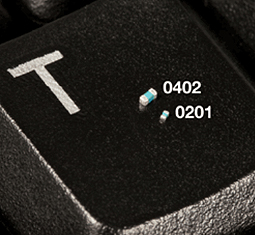 TTI, Inc., the global distributor of Passive, Interconnect, Relay & Switch and Discrete components, has announced the availability of new ChipSESD packages developed by TE Connectivity. These bi-directional silicon-based ESD protection devices help reduce assembly challenges because they offer the advantages of an active silicon device combined with a traditional SMT passive body package. Available in 0201 and 0402 sizes, Chip SESDs are easier to install and re-work than traditional semiconductor-packaged ESD devices, as they operate bi-directionally and can be placed onto a PCB with no orientation constraints, eliminating any need for polarity inspection. More, while conventional ESD diode packaging has pads on the bottom of the device, the passive packaging of ChipSESDs allows for easy solder inspection after PCB mounting.
Electrical specifications include a surge rating of 2A under 8×20µs surge and an ESD rating of 10kV contact discharge. The devices' low-leakage current (1.0µA max) reduces power consumption and a fast response time (<1ns) helps equipment to pass IEC61000-4-2, level 4 testing. Their input capacitance of 4.0pF (0201 package) and 4.5pF (0402 package) makes them suitable for applications such as mobile phones and portable devices, digital cameras/camcorders, computer I/O ports, speakers, headphones and low-voltage DE lines. Comments Felix Corbett, Director of Supplier Marketing, Europe at TTI: "As discrete components become ever smaller, unexpected challenges sometimes arise at any stage from design through to prototyping and manufacturing process control. These new combined bi-directional ChipSESDs developed by TE Connectivity help eliminate some of these problems enabling electronics manufacturers to reduce time to market, especially vital in the consumer market, where competitive advantage is almost always gained by being first."
ChipSESDs are available in two sizes – EIA-0201 (SESD0201P1BN-0400-090) and EIA-0402 (SESD0402P1BN-0450-090). Prototype samples are available on request.
TTI Inc.
http://www.ttieurope.com