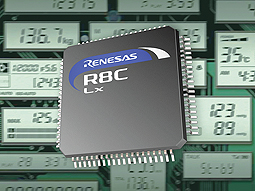 MSC now offers the new R8C/LA3A and R8C/LA5A MCU product groups from Renesas Electronics. The products are ideally suitable for cost-sensitive battery-powered metering applications with LCD display. The R8C/LA3A and R8C/LA5A groups are available in low-profile quad flat packages (LQFP) with 32 pins or 52 pins.
With the latest MCUs of the R8C family, LCD sizes up to 24 segments x 4 common can be controlled, depending on the type. Segments or IO ports are software selectable by every single port.
A 1.8V flash memory with separate areas for data and code ensure high energy efficiency. Renesas Electronics guarantees 10,000 program and erase cycles and data storage of 10 years. Furthermore, the R8C/LAxA MCUs have two power-down modes that ensure smart power management with reduced overall system power consumption. The CPU and the Real Time Clock (RTC) run with only 32 KHz in power off mode 2. In the power off mode 0 only the RAM is retained, reducing the standby current consumption to less than 10 nA. Further features of the R8C/LAxA MCUs include an on-chip gain amplifier to extend the dynamic range of the A/D converter with x1-, x2-, x4-, x6- and x8 software selectable gains.
MSC Vertriebs GmbH
www.msc-ge.com