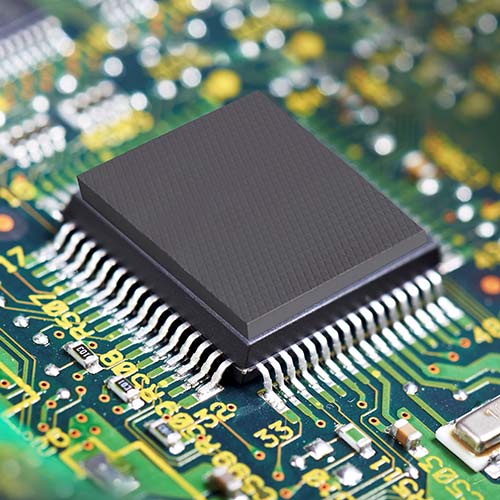 The Chomerics Division of Parker Hannifin Corporation, the global leader in motion and control technologies, has announced its new THERM-A-GAP™ PAD 80 high-performance gap filler pad is now available. This innovative product provides designers of electronics and telecoms devices with a thermal conductivity of 8.3 W/m-K for superior heat transfer.
With the highest available thermal conductivity in its product family, THERM-A-GAP™ PAD 80 also maintains low compression forces and conformability between mating surfaces. Very low compression force means the product will deflect under assembly pressure, minimising stress on components, soldered joints and PCB leads.
Offering low hardness (40 Shore 00), the elastomeric, vibration-dampening THERM-A-GAP™ PAD 80 serves as a highly effective thermal interface between heatsinks and heat-generating components in electronic devices where uneven surfaces, air gaps or rough surfaces exist. The material also exhibits low silicone oil bleeding, thus minimising the potential for greasy residues to accumulate on the surface of the heatsink or substrate during use.
Oil bleed from inferior thermal gap filler pads can promote reduced electrical performance through lower surface resistance and breakdown voltage. Furthermore, surrounding impurities and particles may adsorb in or adhere to the oil, compromising product performance and service life.
Among those set to benefit from the attributes of THERM-A-GAP™ PAD 80 are manufacturers of 5G and telecom equipment/infrastructure, smart home devices, automotive electronics (including ADAS modules), electric vehicle charging units, power supplies, computing modules like GPUs and CPUs, computer servers, and memory and data storage units.
"We know that the engineering demands in devices such as these require thermal interface materials with superior performance characteristics," says explains Ben Nudelman, global market manager, Chomerics Division. "With THERM-A-GAP™ PAD 80 we have addressed this need, delivering a product with the necessary thermal conductivity, conformability and reliability to succeed in highly challenging applications."
Offering full electrical isolation, THERM-A-GAP™ PAD 80 passes NASA's outgassing requirements and General Motor's GMW test for reliability.
The high Watt THERM-A-GAP™ PAD 80 comes in standard thicknesses from 0.5 to 5.1 mm) and is available in sheets or cut to custom part sizes. Parker can provide this soft, easy-to-handle product on several material carriers, including aluminium foil supplied with pressure-sensitive acrylic adhesive (PSA) for added adhesive strength during the assembly process.
Learn more about THERM-A-GAP™ PAD 80 at http://www.parker.com/chomerics.