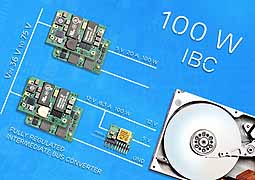 Ericsson has introduced two new isolated DC/DC power converters that come in an industry-standard sixteenth-brick form factor and deliver an output current up to 20A, or an output power equivalent to 100W. The new PKU-C series has been developed to respond to the increased demand in the mid-range IT and communications power applications that are migrating from multiple-output power modules to fully regulated intermediate bus converters, and require compact DC/DC modules that save space for core components, in addition to providing a height of less than 9mm for low-profile applications.
Designed to operate with a 36V to 75V input voltage range, the PKU-C series is primarily designed for applications that are powered by a centralized 48V bus. However, due to its efficient and flexible power performance, the series is also suitable for a wide range of applications including those in industrial, process control and automation.
"According to market analyst Darnell Group, the migration from traditional board power architectures to intermediate bus architectures in high-power equipment is accelerating in the mid-power segment," said Patrick Le Fèvre, Marketing and Communication Director of Ericsson Power Modules. "Based on Ericsson's advanced design and thermal optimization, the PKU-C series are the ideal products to meet market requirements for high efficiency, low board space usage and low height."
A key application for the devices is decentralized local data-storage equipment that requires 12V and 5V to power disk drives. Systems designers of these applications gain significant design freedom with the combination of the new 12V PKU4104C and 5V PKU4105C. Traditionally mid-power applications, and especially decentralized disk-drive storage systems, have used multiple-output DC/DC converters, but cost-optimization and shorter time-to-market demands, in the high-power segment, have led to the migration to intermediate bus voltage architectures.
Because the PKU-C devices are isolated and feature a floating output, the two modules can also be combined to power the 12V and 5V rails in a disk-drive-array application requiring higher power than 100W. Additionally, designers can combine the 12V PKU4104C with Ericsson's BMR462 3E* digital voltage regulator to generate the 5V rail in single-disk applications.
Available in an industry-standard sixteenth-brick footprint, with dimensions of 33 × 22.9 with a low profile height of only 8.5mm (1.3 × 0.9 × 0.334in), the devices deliver up to 100W, and provide 92.7% efficiency at 50% load and 12V output, guaranteeing low power dissipation and reduced energy consumption.
The PKU-C series also delivers outstanding thermal performance for applications that have limited airflow. The series delivers full performance up to 80 degrees C with a 3.0m/s airflow, and, in worse case conditions, full output power with natural convection up to 65 degrees C.
Offering an MTBF (Mean-Time-Before-Failure) of 4.27 million hours, the PKU-C devices meets safety requirements according to IEC/EN/UL 60950-1, and offers input/output isolation of 1500V(DC) and various protection features, including Output-over-Voltage Protection (OVP), input under voltage shutdown, Over-Temperature Protection (OTP), output short-circuit protection and pre-biased output. The PKU-C series is available in both through-hole (PI version) and surface-mount (SI version).
* 3E – Enhanced Performance, Energy Management, and End-user Value are the key benefits delivered by Ericsson's range of 3E digitally controlled DC/DC converters.
Ericsson Power Modules
www.ericsson.com/powermodules