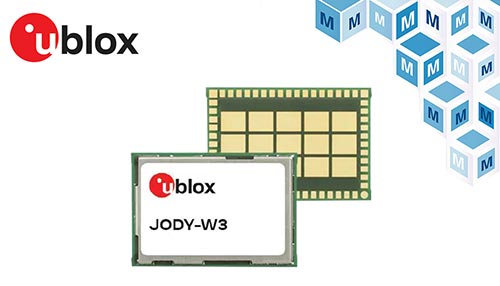 Mouser Electronics, Inc., the industry's leading New Product Introduction (NPI) distributor with the widest selection of semiconductors and electronic components™, the New Product Introduction (NPI) leader empowering innovation, is now shipping the JODY-W3 Host-Based Automotive Modules from u-blox. The JODY-W3 Host-Based Automotive Modules are designed for meeting the increasing number of wireless high-speed, high-data communication connections for automobiles and industrial IoT applications, like manufacturing floor automation, machine control, security and surveillance.
The u-blox JODY-W3 Host-Based Automotive Modules, available from Mouser Electronics, provide engineers with concurrent dual-band (2.4 GHz and 5 GHz) multi-radio capability, featuring Wi-Fi 6 with 2 x 2 MIMO and dual-mode Bluetooth® 5.1. These JODY-W3 Modules are ideal for data intensive in-vehicle infotainment and telematics applications like creating in-car hotspots, implementing Wi-Fi display features like Apple CarPlay, and streaming video across multiple devices. Utilising the NXP AW690/88Q9098/88W9098 chipsets, the JODY-W3 Series supports a higher density of high data devices with less data congestion, while simultaneous Wi-Fi, Bluetooth 5.1 and Bluetooth Low Energy (LE) capability provide increased multichannel communication performance for wireless and cloud connectivity.
The JODY-W3 Modules are compact (19.8 mm × 13.8 mm) and operate at a maximum ambient operating temperature of +85°C. These modules undergo extensive testing and are manufactured in compliance with u-blox qualification policy, based on AEC-Q104 and ISO/TS 16949 AEC-Q104 standards, to support interoperability with legacy hardware, and connect to host processors via interfaces like PCIe, or SDIO for Wi-Fi, and high-speed UART for Bluetooth.
To learn more about the JODY-W3 Modules, visit: https://eu.mouser.com/new/u-blox/u-blox-jody-w3-automotive-modules/.