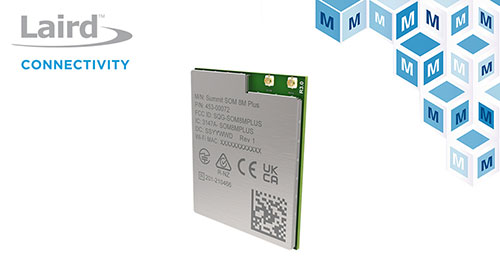 Mouser Electronics, Inc., the authorized global distributor with the newest semiconductors and electronic components, is now stocking the Summit SOM 8M Plus from Laird Connectivity. This system-on-module (SOM) is an integrated and comprehensive hardware and software powerhouse combining NXP's multi-core processing, dual-band 2×2 Wi-Fi® 5 and Bluetooth® 5.3 connectivity for broad range, advanced IoT applications like robotics and machine learning.
The Summit SOM 8M Plus, available from Mouser Electronics, is based on a versatile, power-efficient quad 1.6 GHz Cortex®-A53 microprocessor and an 800 MHz Cortex-M7 microcontroller for powerful heterogeneous multiprocessing. Incorporating the i.MX 8M Plus SoC into the Summit SOM 8M Plus allows customers to leverage hardware acceleration for complex Industrial Internet of Things (IIoT) applications like machine learning, with an integrated 2.3 TOPS neural processing unit, rich multimedia with a DSP core and integrated graphics processing unit (GPU).
The Summit SOM 8M Plus' multiple interfaces include support for up to three displays and several options for video out and camera and audio I/O. The onboard Cortex-A53 and Cortex-M7 cores allow simultaneous Linux® and RTOS execution for user interface, speeding time to market.
Laird Connectivity's Summit SOM 8M Plus is supported by the Summit SOM 8M Plus development kit, also available at Mouser Electronics. The development kit includes reference designs for display, camera, audio, LTE, GPS, USB 3.0 power, and more. The kit features an extensive array of interfaces, supporting multiple audio, camera, video out, and I/O options.
To learn more about the Summit SOM 8M Plus, visit: https://www.mouser.com/new/laird-connectivity/laird-summit-som-8m-module/.