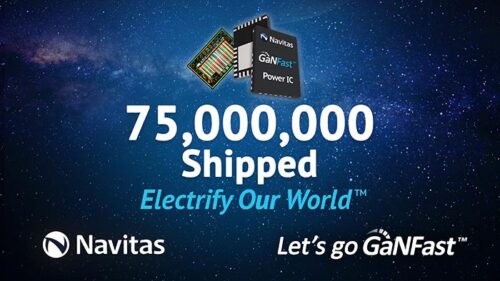 Navitas Semiconductor (Nasdaq: NVTS), the only pure-play, next-generation power semiconductor company and industry leader in gallium nitride (GaN) power ICs and silicon carbide (SiC) technology, announced an industry milestone of over 75 million high-voltage GaN units shipped.
GaN is a next-generation technology that is a significant upgrade over conventional high-voltage legacy silicon power semiconductors, that reduces the energy and physical space needed to deliver that performance. It runs up to 20x faster and can also enable up to three times more power handling or three times faster charging capability, in half the size and weight.
Navitas was founded in 2014, and pioneered a revolution in power electronics, beginning with the mass production release of GaNFast™ power ICs in 2018. GaNFast ICs monolithically-integrate GaN power and GaN drive, plus control and protection. Next, GaNSense™ power ICs added autonomous sensing and fast control, with single and half-bridge portfolios. Now, new GaNSense Control ICs combine high-voltage GaN power ICs with high-speed, low-voltage silicon system controllers for even higher integration, ease-of-use and system performance.
As the market-leader in GaN, Navitas is addressing a 2 billion unit per year mobile fast, and now ultra-fast charging market opportunity, with over 240 end-customer chargers reaching production. All of the top 10 mobile OEMs are in production or development with Navitas, including Dell, Samsung, Lenovo, LG, Xiaomi, Asus and OPPO, plus a broad range of aftermarket companies such as Anker, Belkin, Baseus and many more. As smartphone power demand has increased – driven by larger screens, bigger batteries, and 5G functionality – users have insisted on faster charging and ultra-portability. Now, smartphones such as Realme's GT3 charge from 0-100% in a lightning-fast 9 minutes, 30 seconds using a GaNFast 240 W charger with world-class power density over 2.4 W/cc.
As millions of GaN ICs were shipped, with excellent quality performance, Navitas introduced the world's first and only 20-year limited warranty, heralding GaN's entry into higher-power, more-demanding applications, such as home appliance, data center, solar, energy storage and EV.
Navitas' dedicated Data Center Design Center has created a series of complete, multi-kW platform designs for AC-DC supplies, that exceed Europe's strict 'Titanium-plus' high-efficiency standards, are half the size, and lower cost than legacy silicon solutions. This performance has been confirmed by market-leading customers such as Compuware.
In home appliance and industrial markets, motor drives can be made more efficient, smaller and lighter with GaN in applications such as vacuum cleaners, refrigerator compressors, washing machines and dryers. A typical example is the 400 W drive using three GaNSense half-bridge power ICs, with over 70% reduction in power loss.
For residential solar inverters, GaN can bring an estimated 25% system cost saving vs. legacy silicon due to high-frequency operation and integration. In parallel, Navitas' GeneSiC™ silicon carbide MOSFETs are already in mass production for higher-power commercial string inverters today, with customers such as KATEK from Germany.
Navitas SiC is also shipping into the EV market today, and Navitas GaN is in development for multi-kW on-board chargers (OBC) and DC-DC converters. 'Vehicle-to-everything' (V2x) is the industry term for using an EV to provide power to other loads, whether a home, clinic, or other vehicle. For V2x, Navitas' EV Design Center platform designs include a 6.6 kW '3-in-1' design, with consolidated bi-directional OBC and DC-DC functions, that achieves up to 17% energy savings and a 1.6x increase in power density vs. competing solutions.
"Next-gen GaNFast technology was the catalyst for a major upgrade in power electronics, and enabled our IPO within 7 years of founding," said Gene Sheridan, Navitas co-founder and CEO. "We see a GaN opportunity of $13B/year by 2026. Our mission is to 'Electrify Our World'™ and as each GaN chip sold saves 4 kg of CO2, we've so far saved over 150,000 tons of CO2 vs. legacy silicon chips."