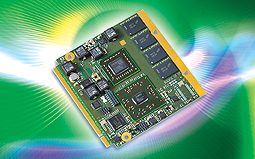 MSC Vertriebs GmbH presents its latest Qseven™ module based on the AMD® Embedded G-Series of Accelerated Processing Units (APUs). The compact module complies with the latest Qseven specification rev. 1.2 and measures 70 x 70mm.
The AMD Embedded G-Series of APUs combines a low-power CPU and a discrete-level GPU in a single processor chip. MSC is focusing on the two lowest-power processors of this family for the new Qseven module: the T40E dual-core processor and the T40R single-core chip both clocked at 1.0 GHz and featuring very low power dissipation (TDP) of 6.4W or 5.5W, respectively. This allows fanless system designs and highly integrated solutions. Both processors come with the built-in AMD Radeon™ HD6250 Graphics Processing Unit (GPU) which delivers very high graphics performance and supports OpenGL® 4.0, DirectX™-11 and OpenCL™ 1.1.
Each G-Series processor supports single or dual independent high-resolution displays and delivers exceptional multi-media capability up to Full-HD with hardware decode support for H.264, VC-1, MPEG2, WMV, DivX™ and Adobe® Flash built into the Unified Video Decoder (UVD3). Paired with the AMD Embedded A50M Controller Hub, the platform supports advanced interfaces such as 6Gbit/s SATA, Gen. 2 PCI-Express and HD Audio which ideally suit the interface definition of the Qseven bus connector.
The Computer-On-Module MSC Q7-A50M offers four PCI Express™ x1 lanes, two high-speed SATA-II interfaces, eight USB 2.0 host ports, LPC, High-Definition Audio (HDA) and one GBit Ethernet interface. An optional SATA-connected Flash Disk up to 32GB usable as system boot device may be soldered on the board.
The standard display interface conforms to the DVIHDMI 1.3 graphics standard or alternatively to DiaplayPort 1.1a and supports a maximum resolution of 1920 x 1200 pixels at 60Hz frame rate. A variety of different displays can be connected via LVDS (18/24 bit) with a maximum resolution of 1920×1200 pixels as the 2nd display interface on Qseven. Both display interfaces can be used in clone or independent mode.
With its rich interface and feature set, the MSC Q7-A50 module is suited for a wide range of embedded applications such as digital signage, industrial control, POS/POI and medical systems. Furthermore, its additional number-crunching capabilities based on APP (Accelerated Parallel Processing), GPGPU (General Purpose computation on Graphics Processing Units) and OpenCL™ enable it to solve challenging tasks like pattern matching and image recognition very economically.
The MSC Qseven platform integrates innovative hardware and AMI's Aptio BIOS based security functions compliant with the requirements of the Trusted Computing Group (TCG). Due to the AMD G-Series' low thermal design power (TDP) and the integrated ACPI 3.0 power management functions, the MSC Q7-A50M platform is also highly suitable for mobile applications.
MSC Vertriebs GmbH
www.msc-ge.com