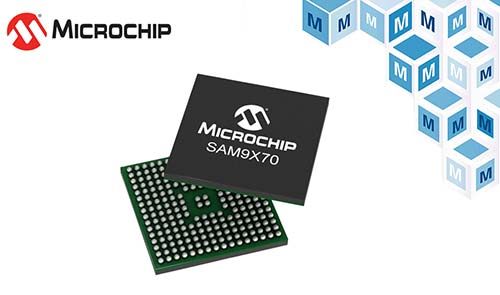 Mouser Electronics, Inc., the New Product Introduction (NPI) leader™ empowering innovation, is now stocking the SAM9X70 ultra-low-power microprocessors (MPUs) from Microchip Technology. Combining high performance and low power with low system cost and high-value integration, the SAM9X7 series of MPUs touts an impressive array of connectivity options, enriched user interface capabilities and state-of-the-art security features all wrapped around a powerful 800MHz Arm Thumb® processor.
The Microchip Technology SAM9X70 MPUs, available from Mouser Electronics, feature an ARM926EJ-S Core, with the CPU running up to 800 MHz and system processing up to 266 MHz. The on-chip memories are offered in the form of a 176-Kbyte internal ROM, a 64-Kbyte internal SRAM, a DDR3(L)/DDR2 controller and an External Bus Interface (EBI). The MPUs also support various non-volatile memory (NVM) interfaces, including NAND Flash, Quad SPI and eMMC Flash. The SAM9X7 MPUs achieve ultra-low power from the real-time clock (RTC),32-bit GP registers, clock generators, power management controllers, and software-programmable ultra-low power modes and optimization capabilities.
Apart from its processing and robust ultra-low-power features, what sets the SAM9X7 Series on another level of performance is its extensive set of peripheral interfaces available on-chip. The MPUs have a 10/100/1000 Mbps Ethernet interface with time-sensitive networking (TSN) connectivity support that provides deterministic messaging on standard Ethernet. The devices also offer MIPI-DSI, LVDS, RGB and 2D graphics, MIPI-CSI-2, Gigabit Ethernet with TSN and CAN-FD for connectivity and user interface applications. Other connectivity options include an LCD controller, an image sensor controller, thirteen FLEXCOMs, an ADC, PWM, one high-speed USB device/ three high-speed USB hosts and more.
Along with the SAM9X7 Series connectivity peripherals are state-of-the-art security functions such as Secure Boot capability with on-chip secure key storage (OTP) to effectively keep secret keys hidden from unauthorized users and high-performance crypto accelerators (SHA, AES and TDES) to protect classified information and encrypt sensitive data. Other security features include tamper protection and a physical unclonable function or PUF that generates on-demand keys that can be instantaneously erased once used.
The Microchip Technology SAM9X70 MPUs are available in a 240-ball BGA package. These MPUs are ideally suited for Internet of Things (IoT) applications, automotive, connectivity devices and user interfaces. The SAM9X7 Series is supported by Microchip MPLAB®-X development tools, Harmony, Linux® distributions and the Ensemble Graphics Toolkit. When paired with Power Management Integrated Circuits (PMICs), such as the MCP16501 and MCP16502, the SAM9X70's power sequencing capabilities offer a thoroughly tested power management solution.
To learn more, visit https://www.mouser.com/new/microchip/microchip-sam9x70-arm-based-embedded-mpu/.