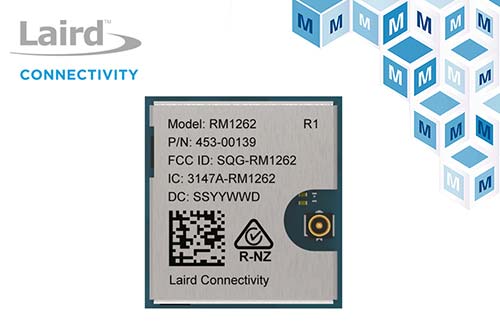 Mouser Electronics, Inc., the authorized global distributor with the newest electronic components and industrial automation products, is now stocking the RM126x Series LoRaWAN™ modules from Laird Connectivity. The RM126x modules are based on the Silicon Labs EFR32 SoC and Semtech's SX126x transceivers, with module/antenna combinations certified to work all over the world in either hosted or host-less modes, providing a global, low-power, long-range solution for challenging LoRaWAN implementations in industrial automation and control, smart agriculture, smart cities, utilities monitoring, transportation, logistics, supply chain, healthcare monitoring, and retail.
The Laird Connectivity RM126x Series LoRaWAN modules, available from Mouser, directly target OEM customers requiring exceptional long-range RF performance and minimal power consumption. These small-form-factor PCB modules are the smallest LoRaWAN modules on the market with a built-in MHF4 connector. In hosted mode, utilizing an external microcontroller, the RM126x can easily be programmed with Laird Connectivity's AT command set. In hostless mode, the RM126x utilizes its powerful Cortex-M33 core with Silicon Labs' Simplicity Studio to provide users the ability to write their own application using C, or take advantage of sample applications and radio certifications offered by Laird Connectivity. The RM126x series also includes LoRa Point to Point (LoRa P2P) capability, allowing users to create their own private, long-range, point-to-point radio network between two RM126x modules. The RM126x series, with an integrated temperature-compensated, crystal oscillator (TCXO), ensures superior performance across industrial temperature ranges of -40 to +85 °C, while the onboard components to complete a DC-DC converter deliver ultra-low power consumption.
Together with Laird Connectivity's FlexPIFA and i-FlexPIFA™ antennas, available for 868 MHz and 915 MHz frequency bands, the RM126x Series modules give developers the flexibility for rapid integration into space-constrained LoRaWAN applications. The Laird Connectivity FlexPIFA and i-FlexPIFA antennas are flexible, adhesive-backed antennas available in both MHF1 and MHF4L connector options, designed with the radiating element facing outward for flexible mounting options. These inverted flexible planar F-type antennas are ideal for sub-GHz applications, delivering consistent and reliable connection performance across the 868 MHz and 915 MHz ISM bands.
To learn more about the Laird Connectivity RM126x LoRaWAN modules, visit https://www.mouser.com/new/laird-connectivity/laird-rm126x-lorawan-modules/.