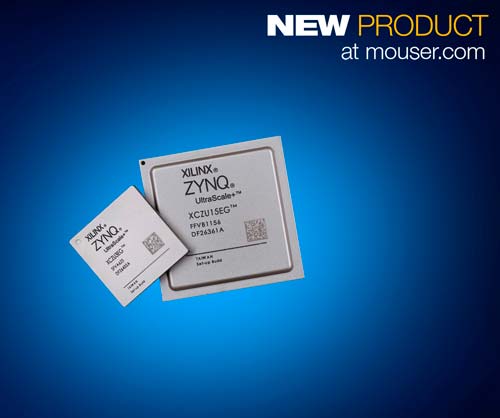 Mouser Electronics, Inc., the industry's leading New Product Introduction (NPI) distributor with the widest selection of semiconductors and electronic components, is now stocking Zynq® UltraScale+ multiprocessor system-on-chips (MPSoCs) from Xilinx.
Xilinx Zynq UltraScale+ devices, available from Mouser Electronics, combine a high-performance Arm®-based multicore, multiprocessing system with ASIC-class programmable logic. The devices deliver maximum scalability, and can offload critical applications, such as graphics and video pipelining, to dedicated processing blocks. The MPSoCs also include a full complement of integrated peripherals and connectivity cores suitable for next-generation applications such as 5G wireless, automotive ADAS, and industrial Internet of Things (IoT).
The Zynq UltraScale+ family of MPSoCs comprises three distinct variants (CG, EG, and EV), each of which includes two or four Arm Cortex®-A53 cores and two Arm Cortex-R5 real-time processing units. The dual-core CG devices are optimal for industrial motor control and sensor fusion. Both the EG series and EV series devices feature four Cortex-A53 cores, as well as an Arm Mali-400 graphics processing unit. The EV series also includes a video codec unit that supports H.265 High Efficiency Video Coding (HEVC) and H.264 Advanced Video Coding (AVC) standards, making them ideal for multimedia, ADAS, and surveillance applications.
To learn more about the Xilinx Zynq UltraScale+ MPSoCs, visit www.mouser.com/xilinx-zynq-ultrascale-mpsocs