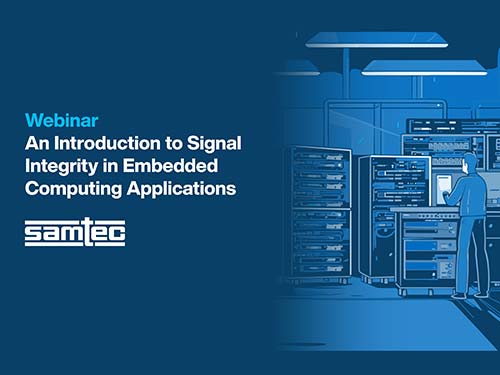 Mouser Electronics, Inc., the industry's leading New Product Introduction (NPI) distributor with the widest selection of semiconductors and electronic components™, has teamed up with Samtec to offer the engineering community a free webinar titled "An Introduction to Signal Integrity in Embedded Computing Applications". The webinar will be streamed live on Tuesday 24th October at 17:00 CEST.
For embedded developers, challenges related to interference on the board are becoming more common. Embedded technologies are now increasingly using high-speed communication protocols such as PCI Express®, Ethernet and USB. It is therefore important for designers to understand fundamental signal integrity (SI) principles. Attendees will learn how to optimise SI in embedded applications and work through practical examples in real-world case studies.
Participants attending the webinar will learn how to:
Develop a fundamental understanding of key SI parameters
Explore SI principles for common embedded computing protocols
Review SI analysis of PCIe 5.0 implementation on PICMG COM-HPC Carrier/Server Module
Solve typical SI challenges for embedded applications using selected Samtec products. These include:
The SEARAY™ SEAF & SEAM connectors, which offer high-speed performance of up to 56 Gbps and protect against electrostatic discharge (ESD), tested at 5, 10, and 15 kV
The APF6 & APM6 AcceleRate® High-Performance Terminals, which feature 112 Gbps PAM4 extreme performance and are PCIe® Gen 5 compatible
The NovaRay® Extreme Performance High-Density Arrays, which consume 40% less space compared to traditional arrays with the same data throughput. The arrays also offer extremely low crosstalk as well as an aggregate data rate of 4.0 Tbps
The PCI Express® Edge Card Sockets, which come in four different designs and support 1, 4, 8, and 16 PCI Express links
The COM-HPC™ Interconnect Solutions, which provide ultra-high-speed performance and extended connectivity with limitless scalability
The AcceleRate® Slim Body Direct Attach Cable Assembly, which includes the ARF6 vertical slim socket and the ARF6-RA right-angle slim socket, complete with rugged metal latching and shielding
The webinar will be hosted by Mark Patrick, Head of Technical Marketing, EMEA at Mouser Electronics and will feature Matthew Burns, Global Director Technical Marketing at Samtec, as a guest speaker.
To register for this free webinar, visit https://emea.info.mouser.com/webinar-samtec-singnalintegrity-emea-lp.
To learn more about Samtec, visit https://eu.mouser.com/manufacturer/samtec/.