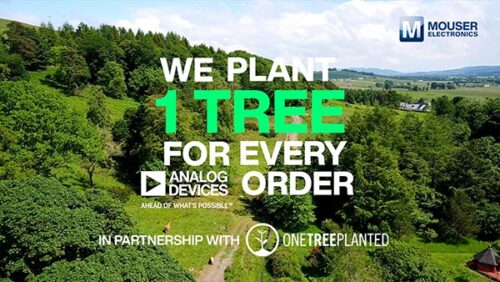 Mouser Electronics Inc., the authorised global distributor with the newest semiconductors and electronic components, and Analog Devices, Inc., a global semiconductor leader that bridges the physical and digital worlds to enable breakthroughs at the Intelligent Edge, are working together to donate funds to One Tree Planted with the goal to plant up to 100,000 trees.
Starting this month, for every Mouser order placed in the EMEA region including at least one line of Analog Devices products, One Tree Planted will plant a tree in reforestation projects across Europe, in countries such as Denmark, Iceland, Portugal, Romania, Spain and the United Kingdom.
"We are proud to join Analog Devices to contribute to this meaningful environmental program," says Marie-Pierre Ducharme, Vice President, EMEA Supplier Marketing & Business Development at Mouser Electronics. "We hope our customers will also feel positive about the program – planting trees is something really valuable that we can all do to make a difference." 
"Europe has witnessed severe impacts to its forests over the last few years due to rising average temperatures, which has resulted in widespread droughts, fires and flash floods," says Peter Hellstroem, Vice President of Sales in EMEA at Analog Devices. "At Analog Devices, we have a strong commitment to protect people and the planet. This is something positive we wanted to do to lessen the environmental impact and the global carbon footprint."
Trees offer many benefits to the environment. They give off oxygen for humans to breathe and reduce the amount of storm water runoff, which can reduce erosion and pollution in waterways and may reduce the effects of flooding. Many species of wildlife, including birds and mammals, depend on trees for habitat to provide food and protection.
One Tree Planted is a non-profit group focused on global reforestation. As an official partner of the United Nations' Decade on Ecosystem Restoration, they have planted over 40 million trees in more than 47 countries across the globe since 2014. In 2021, they planted over 23.5 million trees, more than doubling their impact from 2020. They seek to re-establish woodland, improve water, and soil quality, as well as create habitats for wildlife in areas that were historically forested.
Order Analog Devices products from Mouser now to ensure your contribution to the reforestation project. View Analog Devices' products here: https://eu.mouser.com/manufacturer/analog-devices/.
For more information on the charitable initiative, visit https://emea.info.mouser.com/adi-one-tree-planted/.