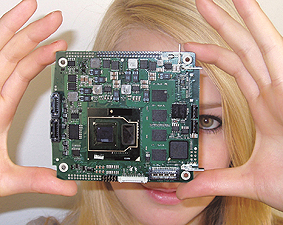 Interface innovations with FPGAs and uniform middleware.

At the SPS/IPC/Drives press conference, Kontron introduced two interface innovations consisting of FPGA-programmable I/Os and a uniform middleware for I/O access to hardware resources and I/Os. Both innovations aim to significantly alleviate and accelerate the application-specific implementation of embedded computer boards. Not only is the I/O design taken to a new level of flexibility, but all the interfaces become more convenient to manage.
Parallel to the launch of the world's first embedded platform based on the new Intel® Atom™ processor E600C series with integrated Altera Aria II FPGA in one multi-chip package Kontron announced the MICROSPACE® MSMS PCIe/104™ Single Board Computer and a COM Express™ Starterkit which offers a baseboard with an FPGA allowing for flexible I/O configurations. In addition, Kontron announced that all future standard form factors will be equipped with the unified Kontron EAPI (Kontron Embedded Application Programming Interface). With this new cross-platform middleware Kontron has standardized and unified the access and control of hardware resources for all new Kontron embedded computing platforms.
"Flexibility needs standards", Norbert Hauser commented at the press conference and explained the parallel introduction of a standardized API for the I/O access and simultaneous increase in I/O support on ?86 platforms via FPGAs. The unified API aims to offer customers more convenience when implementing standard components in order to save R&D costs, reduce time-to-market and ensure an easy migration from board to board. These factors combined, also lead to a minimized Total-Cost-of-Ownership (TCO). Additionally, the FPGA implementation aims to support the trend towards flexibly programmable I/Os which allow to carry out legacy interfaces or specific industrial I/O requirements most efficiently.
From a technical point of view, the FPGA is of great interest as this paves the way for a range of new possibilities. In addition, the FPGA chip is implemented on the PCIe/104™ board with the Intel® Atom™ processor on an Intel® multi-chip module so that this implementation offers full Intel® support with the corresponding roadmap. This combination is well suited as a mainstream solution in the low-power segment.
PCIe/104™ SBC with the Intel® Atom™ E600C processor series
The Kontron MICROSPACE® MSMST PCIe/104™ Single Board Computer (SBC) is based on the latest Intel® Atom™ processor E600C series comprising an Intel® Atom™ processor and an Altera Arria® II Field Programmable Gate Array (FPGA) coupled via PCI Express™ on a multi-chip module. The new SBC offers an extremely high level of flexibility for application-specific or proprietary I/O or algorithms while being space-saving. Customer-specific I/Os are carried out via the High-Speed Mezzanine Card (HSMC) interface. Configuration bitstreams, which have been validated, are available for industrial I/Os like CAN-Bus, serial interfaces (SPI Master / UART) and PCI-Express, I2C and GPIO. Further industrial FPGA configurations are being developed. OEMs only need the corresponding configuration bitstream and High-Speed Mezzanine Card (HSMC) in order to execute the interfaces. For even more dedicated I/Os, Kontron can also create, validate and verify FPGA-IPs as a software service.
Being dedicated – the new openness
The new flexibility which the ?86/FPGA eco-system features with its existing and future configuration bitstreams coupled with the HSMC interface make the Kontron PCIe/104™ MICROSPACE® MSMST an interesting alternative for dedicated RISC platforms. Customers get the flexibility of an FPGA with ?86 performance on an integrated multi-chip module and the standard chipset is no longer required. This paves the way to even more compact and cost-efficient dedicated applications which can be furnished with a new range of functions simply via the changed FPGA programming. For customers this means faster upgrades, more design flexibility and long-term IP availability. Customers with a high level of individual requirements are at the same time presented with the options to realize these differentiations on multi-functional COTS platforms just via the software, in order to ensure the use of this IP in the long term. Altogether, a platform like this offers many options for more flexibility, for example, for industrial Ethernet implementations, legacy I/Os or proprietary designs. The HSMC slot is ideal for evaluating individual design options. The Single Board Computer is positioned primarily as an evaluation board for customer-specific OEM designs, which Kontron provides on the basis of this new configurable Intel® Atom™ processor. It is however also applicable as a COTS solution for small and larger series as the basic I/O functions have already been implemented.
COM Express™ FPGA Starterkit
The parallel launch of the COM Express™ FPGA Starterkits highlights that the implementation of FPGA is an essential strategy for Kontron. The FPGA baseboard with Altera Cyclone IV GX FPGA offers two HSMC slots and is more flexible for I/O execution.
Furthermore, the board can integrate COM Express™ Type 1, Type 10 and Type 2 compatible Computer-on-Modules. Developers are given a great deal of flexibility for choosing the scalable processor performance and for carrying out the specific I/O. The Kontron COM Express™ FPGA Starterkit lends itself as the ideal evaluation platform for FPGA-based, cost-optimized designs which rely on individually tailored, dedicated I/Os. The individual configuration is carried out in minutes from the COTS components for processor and peripheral connections. If the basic parameters for the hardware have been validated, the development of the software app and the right customer-specific baseboard can be carried out parallel to one another. OEMs save on development time and costs and can reduce time-to-market of their dedicated FPGA platform. Customers further benefit from the FPGA-based realization of I/Os from the high level of openness and flexibility, enabling upgrades, modifications and also the freezing of an IP.
Target platforms for ?86 and FPGA-based I/Os are dedicated full-custom designs with individual baseboards with scalable Computer -on-Modules. For both platforms Kontron offers development and manufacturing services including revision management and industry-specific certifications such as ITAR or ISO 13485 for medical equipment.
Target markets for FPGA-based I/Os on ?86 processor platforms are practically unlimited, as FPGAs can cover nearly all the available I/Os. Hardware defined I/Os make way for flexible, software-defined I/Os. Only the FPGA configuration and the mechanical shape of the interface define the I/Os, therefore changing the way ?86 platforms are developed and constructed.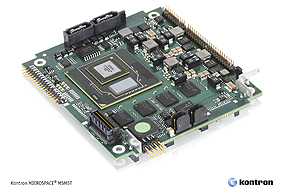 PCIe/104™ SBC with the latest Intel® Atom™ E600C processor series
The Kontron PCIe/104™ MICROSPACE® MSMST with up to 1.3 GHz and 2 GB onboard DRAM features processors from the Intel® Atom™ E600C series, which comprise an Intel® Atom™ processor together with an Altera Arria® II FPGA coupled via PCI Express™ on a multi-chip module. The integration of numerous customer-specific I/O options is carried out "conventionally" via the PCI-Express™ bus of the PCIe/104™conform board or – and this is new – via a HSMC interface. The board is designed for the extended temperature range of -40?C to +85?C and with that is suitable for rough environmental conditions. The performance-optimized Intel® Graphics Media Accelerator (Intel® GMA 600) with up to 128 MByte, 18/24 Bit LVDS and SDVO interface is integrated in the processor. Video signals are transmitted via optional media boards for VGA or DVI. SPDIF (out) and 2 x analog stereo for Line-out and Mic-in are available as options for HD audio signals. Storage media can be connected via 2? SATA300. 2 ? USB 2.0 and an optional 1 ? Gigabit LAN are available as further interfaces. The Trusted Platform Module (TPM) ensures a high level of security and reliability thanks to hardware encryption of all transmitted data. The Kontron MICROSPACE® MSMST board supports Windows, Linux and VxWorks. Further operating systems are available on request. Pre-series models are available now, the serial production starts in Q2 2011.
The feature set of Kontron COM Express™ FPGA Starterkit
For developers the Starterkit with the increasing development status of the IP for the Altera Cyclone IV GX FPGA will become a universal platform for numerous I/O configurations. The first available configuration of this innovative Starterkit for FPGA evaluation for x86 designs is for example an ideal combination of the COM Express™ compatible, ultra small nanoETXexpress-TT module. All the components which are required to make an immediate start are delivered in the Starterkit. At the heart of the Starterkit is the COM Express™ FPGA baseboard. A large number of I/Os are carried out on both of the HSMC slots, which not all are realized by dedicated components but simply by the Altera Cyclone IV GX FPGA. The first configuration features optimization of the Kontron COM Express™ FPGA baseboard with two HSMC cards and FPGA configuration for automation and image applications. The FPGA can however also be re-configured via the USB-Blaster download cable which is supplied. A power supply and a mounting kit round up the feature set. First pre-series models of the Kontron COM Express™ FPGA Starterkit for Type 1 / 2 / 10 Computer-on-Modules with integrated Altera FPGA and 2 HSMC I/O are available now. Serial production is due to take place in Q1 2011.
Flexibility needs standards
Another aspect, which results from FPGA implementations, is the access to standard PC functions through customer-specific software applications. For this purpose, Kontron now unifies this access with the cross-platform middleware Kontron Embedded Application Programming Interface (Kontron EAPI) on all standard boards and this also applies to the dedicated FPGA-based I/O implementations. Application developers profit from extensive and highly-developed interfaces, libraries and API functions for retrieving information from all new Kontron Embedded Computing platforms. With a significantly extended feature-set, Kontron EAPI is compatible to PICMG® EAPI, but is independent of form factors and operating systems. In addition, Kontron EAPI also enables remote management and control functions which can lead to improved service, simpler maintenance and an overall lower Total-Cost-of-Ownership.
The first products with Kontron EAPI are the Kontron Embedded Motherboard KTQ45, the Kontron COM Express™ Computer-on-Module nanoETXexpress-SP and the Kontron MICROSPACE® MPCX Box PCs. All new platforms which will be introduced after the launch of Kontron's EAPI will support this cross-platform middleware. The software interface can be linked to any higher programming language for example, C++ or Java. Kontron EAPI's goal is to reduce development costs. With the Kontron EAPI users can carry out this technology change significantly faster and easier. In addition, the complexity of the access to hardware resources and I/Os is standardized on all embedded platforms.
In reply to the question of whether the Kontron EAPI differentiates itself from other solution approaches Dirk Finstel, CTO of Kontron AG, explained that there are already some standards like IPMI and PICMG® EAPI. These specifications, however, are limited to certain form factors. In the case of the Kontron EAPI the features were combined out of the standards and bundled to an extensive standardized middleware package which users can deploy independently of form factor and operating system. Kontron is convinced that this uniform interface will be greeted by a lot of fans, as R&D costs are reduced and migration can be carried out much easier, Kontron EAPI brings a real value. It is also possible to start evaluating with a COM and baseboard and afterwards carry out the implementation with a motherboard or VPX module. Only one board needs to be produced parallel to the launch of a new processor and following on from this, further boards can be launched and custom designs carried out. It is thanks to this that customers profit from the availability of latest technology for all corresponding form factors parallel to the processors becoming available. The migration is much simpler resulting in quite drastic time savings, which, in turn, can be reflected in the fast market launch of latest solutions.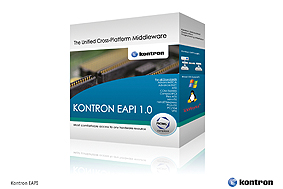 Tuning of the software interfaces
The cross-platform middleware, Kontron EAPI, which Kontron will be supporting on all new standard boards is fully compatible with the EAPI of the PICMG® in the most recent COM Express™ specification, Rev. 2 COM.0 and extends its functionality. Furthermore Kontron EAPI is applicable regardless of form factor starting with A for AdvancedTCA® right up to V for VPX. Over the internet, remote access to all functions is possible. Developers profit from Kontron's EAPI thanks to the high level of reliability of a standardized programming interface combined with the increased convenience provided by the extended feature set.
www.kontron.com
Authors:

Norbert Hauser, Kontron AG
Dirk Finstel, Kontron AG
Kontron Modular Computers GmbH
Sudetenstra?e 7
87600 Kaufbeuren, Germany
Tel: +49 8341/803-428