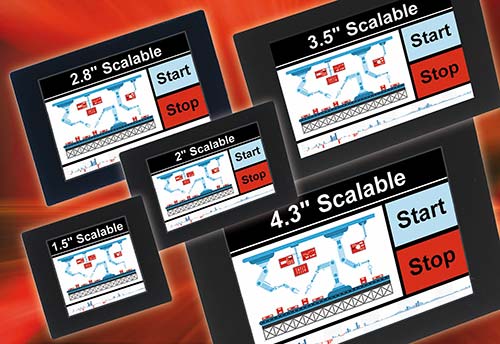 DISPLAY VISIONS combines the input of control commands and the display of measured values or parameters into one single component. The uniTFT smart touch display product range can both receive and output data. With integrated I/O and graphics controllers, users can even implement complete small-scale control without additional hardware.
The range of possible applications is enormous. The small-scale controller masters arithmetic and logic operations as well as data communication and storage; in combination with its brilliant colour display and its integrated touch screen for data input, you can implement countless applications without great effort. Examples are switches and controls in home automation as well as control panels in mobile homes, fitness equipment or in the renewable energy sector. There are also more applications in industrial automation. These components can also be easily integrated into larger, more complex systems and networks. The smart uniTFT displays are equipped with a selection of the most common interfaces such as I2C, SPI, RS232 and USB. These enable data exchange with external sensors or microcontrollers. The small controllers can receive measured values and issue control commands via four analogue inputs and eight freely definable I/O interfaces. The number of these I/Os can be expanded up to 136.
With a typical brightness of 1,000 cd/m2, the uniTFT displays offer a high brightness screen, that is easy to read, even in direct sunlight. All Angle Colour Stability (AACS) technology ensures that screen content can be seen from virtually any direction without loss of quality or contrast. The optically bonded capacitive touch surface allows the implementation of multi-gestures for intuitive communication with the device. In addition, the displays can also draw attention to themselves acoustically by means of a built-in audio output and, for example, signal an emergency situation.
DISPLAY VISIONS provides the Windows tool uniTFTDesigner for free for programming applications. This means that impressive touch and display functions can be used, as well as animations. Pre-made images, fonts, menus and log files can be stored in the integrated flash memory of the uniTFT displays. Demo packs with numerous application examples are also available.
The uniTFT displays are designed as built-in devices. They are available in graduated screen diagonals from 1.5 inches to 10.1 inches. DISPLAY VISIONS guarantees long-term availability and comprehensive customer service directly from Germany.
Visit DISPLAY VISIONS at the SPS (Booth 330, Hall 8) in Nuremberg, Germany.