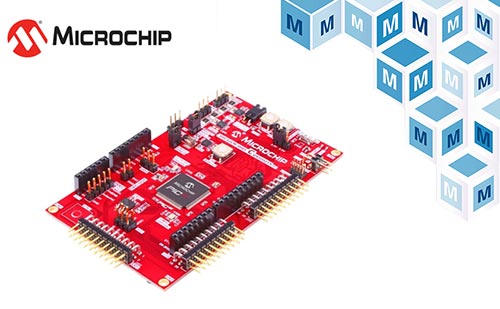 Mouser Electronics, Inc., the authorized global distributor with the newest semiconductors and electronic components, is now stocking the EV81X90A PIC32CM Curiosity Pro development board from Microchip Technology. The EV81X90A development board is well suited for a variety of applications, including industrial control systems, home automation systems, medical devices, and robotics.
The Microchip Technology EV81X90A PIC32CM Curiosity Pro development board features Microchip's innovative PIC32CM JH — one of the first microcontrollers on the market based on an Arm® Cortex®-M0+ architecture with AUTOSAR, MBIST and Secure Boot — at its core. This 100-pin TQFP entry-level microcontroller helps meet specific compliance requirements, such as functional safety and cybersecurity, previously available only on higher-end MCUs. The device integrates advanced features, including dual CAN FD interfaces, a noise and water-tolerant peripheral touch controller (PTC) with Driven Shield+, and Secure Boot to authenticate code before it runs. Additional features include Error Correction Code (ECC) with fault injection and MBIST (Memory-Built-In Self-Test) for functional safety compliance, an ADC, DAC, analog comparators, hardware error correction and loop-back on communications interfaces.
For software support, the EV81X90A Curiosity Pro is compatible with AUTOSAR, an open software architecture enabling designers to change to lower-level hardware but keep the original application code. This feature allows easier migration between different designs to help simplify the development process and reduce bill-of-material costs.
To enhance and aid development, the EV81X90A also has Arduino Uno and mikroBUS™ interfaces, and three extension headers to interface with Xplained Pro extension boards for rapid prototyping and expanded functionality. Included onboard is an Embedded Debugger (EDBG) that eliminates the need for external tools for programming or debugging. The EDBG is a micro-USB interface device incorporating a scrubber, virtual COM port and DGI interface. The EV81X90A kit also has a security element (TA100) that increases the security functionality of the microcontroller for automotive cybersecurity compliance.
The EV81X90A PIC32CM Curiosity Pro development board is supported by Microchip's MPLAB® development ecosystem, consisting of the MPLAB X integrated development environment, the MPLAB XC32 compiler and Microchip's free MPLAB Harmony embedded software development environment.
To learn more, visit https://www.mouser.com/new/microchip/microchip-ev81x90a-pic32cm-board/.