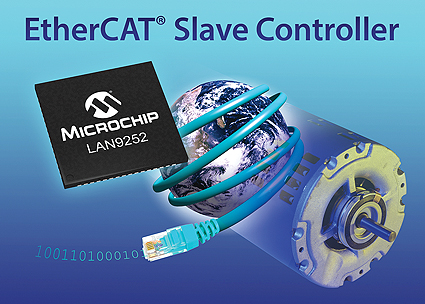 Microchip announces the LAN9252 stand-alone EtherCAT® slave controller with two 10/100 PHYs. This highly integrated device's dual 10/100 Ethernet transceivers support both fiber and copper, along with cable diagnostics capabilities. The LAN9252 supports traditional Host Bus and SPI/SQI™ communication, along with standalone digital I/O interfaces, providing system designers the flexibility to select from a wide range of microcontrollers when implementing the real-time EtherCAT communications standard.
Additionally, the LAN9252 reduces system complexity and cost for developers using EtherCAT in factory-automation, process-control, motor/motion-control and Internet of Things (IoT) industrial-Ethernet applications. Technology research firm ARC Advisory Group is forecasting Ethernet's double-digit growth for use in industrial networks, partly fuelled by applications in the emerging IoT segment. With EtherCAT technology's "on-the-fly" processing and use of standard Ethernet cabling, Microchip's LAN9252 slave controller offers the high level of integration and cost optimisation required for current and future industrial applications.
Fully compliant with the EtherCAT standard and interoperable with all EtherCAT systems, the LAN9252 EtherCAT slave controller includes 4 Kbytes of Dual-Port RAM (DPRAM) and three Fieldbus Memory Management Units (FMMUs). The LAN9252 also features cable diagnostics support that allows field service technicians to rapidly and effectively diagnose line faults and provides for fibre connectivity. This EtherCAT slave controller is available in commercial, industrial and extended industrial temperature ranges, in low pin-count and small body size QFN and QFP-EP packages.
The LAN9252 EtherCAT slave controller is available now for sampling in 64-pin QFN and QFP-EP packages.
Microchip Technology
www.microchip.com/EtherCAT-041715a