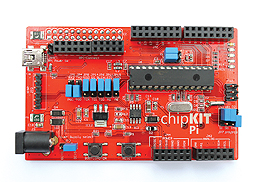 Microchip Technology Inc., a leading provider of microcontroller, mixed-signal, analog and Flash-IP solutions, announced the expansion of its Arduino™ compatible chipKIT™ platform ecosystem, including a new Raspberry Pi® tool that it co-developed with partner element14 – the chipKIT Pi Expansion Board. On the software side, volunteers from the chipKIT and Arduino communities collaborated with Microchip's engineers to expand the free chipKIT Multi-Platform IDE (MPIDE), to allow users to create, compile and program Arduino sketch-based chipKIT applications within the Raspberry Pi operating system. The chipKIT MPIDE is open source and compatible with the Arduino programming language and development environment. Both of these tools are based on Microchip's 32-bit PIC32 microcontrollers (MCUs) in prototyping-friendly, low pin count SPDIP packages, which was previously only available with 8-bit MCUs for the Arduino community. This enables all users – including hobbyists, academics, makers and professionals – to benefit from the PIC32's high performance, memory and integrated peripherals while using the basic hobbyist prototyping equipment that is found in most home workshops.
Watch a brief video: www.microchip.com/get/598S
The Raspberry Pi is widely viewed as one of the easiest and most affordable computers on which to program, and recently shipped more than one million units in less than a year on the market. element14's chipKIT Pi Expansion Board is the world's first to enable the development of 3.3V Arduino compatible applications for the Raspberry Pi using a 32-bit, high-performance MCU in a prototyping-friendly package. Because the Raspberry Pi's processor is a 3.3V chip, its digital I/O and communications (I2C™, UART, SPI) pins require 3.3V. The chipKIT Pi can interface directly to the Raspberry Pi I/O Expansion header without any additional components, reducing both cost and design complexity.
Microchip Technology
www.microchip.com/get/NHAC