The highly integrated 2nd generation of Intel® Core™ i3/i5/i7 processors will populate all major standard embedded form factors, ranging from small-form-factor to high-performance designs. In addition to extended scalability, optimized power consumption and improved graphics performance, target applications will benefit from the new processors' high level of integration, including memory and PCI Express controllers as well as processor graphics. The new platforms based on 2nd generation Intel® Core™ processors will also incorporate Intel® Advanced Vector Extensions (Intel® AVX). This accelerates scalar-based operations required for imaging applications in industrial automation, medicine and military projects as well as floating-point intensive applications, such as high-performance embedded computing (HPEC). Additionally, Intel® Turbo Boost Technology 2.0 automatically shifts or reallocates processor cores and processor graphics resources to speed up performance, optimizing a workload to give users an immediate performance boost whenever possible based on thermal headroom. To unleash the full potential of the new processor architecture, OEMs can now benefit from these enhancements on a wide portfolio of standardized and proven platforms to minimize design risk and speed up time-to-market.
The 2nd generation Intel® Core™ processor family brings huge improvements in processing power, graphics performance and power consumption. Further enhancements to power and a smaller footprint make it the ideal choice in 2011 for upgrading nearly all existing x86 platforms. But what is it exactly that makes the new processors so attractive?
Advanced graphics performance
The 2nd generation Intel® Core™ processor family integrates more capabilities than ever before. As well as incorporating a memory controller (with ECC support) and PCIe 2.0 (5 GTps), the latest processor now includes an extremely powerful graphics unit on a single die. Based on Intel's new "visibly smart" micro architecture, the new processor line doubles the graphics performance of its predecessors and – for the first time in the embedded market – offers 2-D and 3-D graphics performance with OpenGL and DirectX10 support on the level of dedicated graphics cards. Thus, two high-resolution HD video streams can play simultaneously, allowing cost-effective multi-display solutions with just one space-saving hardware platform without expansion cards. For innovative infotainment solutions, they also support the new 3D BluRay technology making them fully prepared for the latest media formats.
Particularly energy efficient
As the GPU has now also been manufactured in 32 nm process technology, the new generation of Intel® processors is particularly energy efficient, with energy consumption being reduced by a factor of five as compared to the discrete graphics in the former processor generation. This is because the sixth generation graphics core now offers dedicated silicon for media processing, including dedicated units for graphics functions such as texturing, vertex processing, rasterization and Z-buffering, as well as a hard-wired transistor block that handles video tasks alone. This enables two advantages, first commonly-used graphics processing functions as well as transcoding of videos are outsourced to fixed function units and are thus significantly accelerated. Second, the energy consumption is also kept as low as possible since the hard-wired processing units work significantly more efficiently than possible for processor cores or programmable shader units. Application developers will benefit from significantly improved graphics performance and high energy efficiency.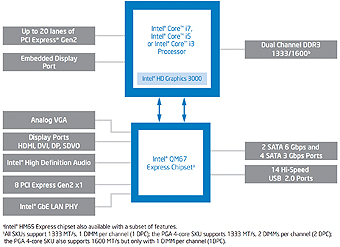 (1) Error Correcting Code memory is available only on Intel® Core™ processors which come in a Ball Grid Array (BGA) Package and these SKUs were specifically developed by the Intel® Embedded and Computing Group.

Highly integrated
A high level of integration is possible due the 22% reduction in processor footprint. This makes the new generation of Intel® processors an optimal choice to bring quad-core performance into designs that until now were based on dual-core processors. So a differentiation has to be done regarding the term small form factor designs. Some form factors like COM Express™ basic or 3U blade systems such as CompactPCI® or VPX can now host quad-core processors and can be described as small form factor designs in this context. Nevertheless, the thermal envelope of the processors still requires adequate dimensioned housings and cooling solutions, as the quad-core versions have a thermal design power of 45 Watts. However, due to the high degree of scalability it offers for computing power, functionality and power consumption, the 2nd generation Intel® Core™ processor family is not only suitable for increasingly compact designs but can also be utilized across the entire range of embedded applications, right up to HPEC (high-performance embedded computing) with up to four mainstream cores.
Next generation Turbo Boost
As for applications that are particularly power-hungry, the new processors provide enhanced Intel® Turbo Boost technology. The Next Gen Turbo Boost mode not only increases the clock speeds of the processor cores, but also the graphics unit, independently of load, supply voltage and temperature. This automatically shifts processor cores and processor graphics resources to accelerate performance,
tailoring a workload to give users an immediate performance boost for their applications whenever needed. Depending on the load, the actual speed can be increased by up to 40%. Because the new turbo boost technology can overclock not only single, but also all cores, both older single-thread applications and modern multithread applications benefit from the computing turbo. Furthermore, the Power Manager now has the option of overclocking a core which was switched off for a given time for approximately 10 to 20 seconds immediately after waking up than would be the case if the core has been active for some time. Right after the core wakes up, the maximum application performance is available to reactivate inactive processes at high speed as needed. Thus, the thermal budget is more efficiently used. The integration of CPU and GPU on one die also results in additional flexibility. If the GPU is not being used, the power manager can assign parts of the thermal budget to the CPU. In the opposite case, the CPU cores can also be stepped down and the GPU units overclocked, so that graphics-intensive applications also benefit from an additional performance surge.
Enhanced Intel® Advanced Vector Extensions
Another innovation the processors offer is the new instruction set, known as Intel® Advanced Vector Extensions (AVX). Thanks to the doubling of the vector register size from 128 to 256 bits, AVX processors can accelerate the peak performance of floating-point applications and multimedia applications by a factor of two. The new instruction set accelerates floating-point intensive applications in high-performance embedded computing as well as the digital processing of images, videos and audio data in industrial automation, medical and military applications. These high-performance embedded applications also benefit from the processor's support for OpenCL 1.1. OpenCL provides software developers with a uniform programming environment to write efficient, portable code for high-performance computing servers, reducing the development effort and time-to-market for data-parallel applications on multi-core architectures.
Processing and visualization of huge amounts of data
These new features make embedded platforms equipped with the 2nd generation of Intel® Core™ processors an ideal solution for applications in which a huge amount of data has to be processed in a limited thermal envelope. The first area to benefit from innovations, such as AVX and improved graphics performance, is situational awareness and applications such as radar, sonar, image processing, video surveillance with recognition and computer-aided diagnostics (CAD). Equipped with the new graphics core, embedded platforms can also control two displays independently of each other. Together with new digital display interfaces such as DisplayPort that allow cable lengths of up to thirty feet without having to use a repeater, it is possible to decentralize the display units, enabling a centralized computing architecture to be created that features several different human/machine interfaces. This is the second new application area, enabling industrial server applications to be utilized along with extremely thin clients that only need a keyboard, visual display unit and mouse (KVM) — which cuts installation and maintenance costs dramatically and improves maintainability as well.
The new benchmark for x86 devices comes in different flavors
Owing to this highly attractive feature set, the 2nd generation Intel® Core™ i3/i5/i7 processors are the ideal candidates to replace many existing platforms for new design-ins. To unleash the full potential of this technology and speed customers' time-to-market, Kontron has implemented the innovative high-performance, low power-to-performance ratio on a broad array of suitable standard form factors with even more boards and systems to follow soon:
COM Express® basic Computer-on-Module
Based on the 2nd generation Intel® Core™ i7 processors, the new Kontron ETXexpress®-SC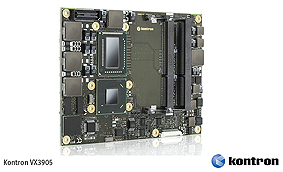 Computer-on-Modules are now the most powerful COM Express® modules available. Without exceeding the thermal boundaries of comparable forerunners, they offer more capacity, especially for applications that are graphics and computing intensive. Applications that are built around the Kontron ETXexpress®-SC will be able to utilize two high-quality HD video streams simultaneously, enabling economical multi-display solutions with one platform supporting several displays. This makes the new Computer-on-Module an ideal fit for feature-rich, graphics-oriented applications such as digital-signage servers running several displays, gaming systems and high-performance medical appliances.
Mini-ITX and Flex-ATX embedded motherboards
Built on the 2nd generation Intel® Core™ i3/i5/i7 processors, the Kontron Flex-ATX embedded motherboard KTQ67/Flex and the Kontron Mini-ITX embedded motherboard
KTQM67/mITX are Kontron's highest performing ATX-compliant embedded designs. With their extensive range of interfaces, the Kontron Mini-ITX and Flex-ATX embedded motherboards simplify the design-in process because they include all required standard interfaces for a broad range of computing-intensive and graphics-intensive applications, such as image processing in industrial automation, medical and military applications as well as digital signage, infotainment and gaming applications. Even multi-screen applications with simultaneous presentation of two separate HD videos or innovative 3-D BluRay applications are enabled with the Kontron KTQ67 embedded motherboards, without additional components.
6U CompactPCI® blade
Based on the 2nd generation Intel® Core™ i5/i7 mobile processor technology and designed to bring leading-edge performance, low power consumption and low heat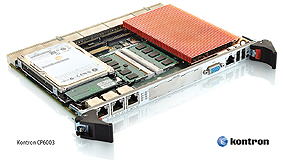 dissipation to a broad range of applications, the Kontron CompactPCI® processor board CP6003-SA (Standard Air-Cooled) is an ideal fit for communications, military, aerospace, medical, industrial and monitoring systems. For maximum application flexibility the Kontron CP6003-SA comes with an extensive range of interfaces: 6x SATA ports with RAID 0/1/5/10 functionality for enhanced data security, 6x USB 2.0 ports, 2x RS232 ports, VGA, dual HDMI and High Definition Audio (HDA) interfaces as well as 5x Gigabit Ethernet interfaces connected via PCI Express to meet the high performance requirements of communications applications.
3U VPX CPU board
Integrating the Intel® Core™ i7 2655LE processor, the new Kontron 3U VPX CPU board VX3035 defines a new performance class for SWaP (size, weight and power) optimized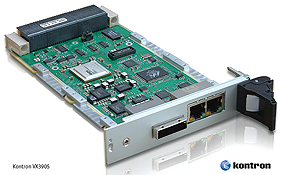 high-performance embedded computing applications. OEMs will benefit from the Kontron 3U VPX CPU board VX3035 through the outstanding versatility and x86 technology, coupled with high vector and parallel computing power. System developers can develop extremely compact and light applications with high parallel computing power, such as video and image processing, radar, sonar or signal processing in software-defined wireless equipment. The new VPX board also supports established APIs such as Open CL, which simplifies and speeds up application development.
Application-ready platforms
Kontron offers extensive custom design services in addition to migration support that includes validation and verification. When taking advantage of these services, a hardware offering becomes an application-ready platform – regardless of whether it is a standard or semi-custom or full custom module, motherboard, IPC or system design. On request, they include all required hardware components and hardware-optimized software implementation for the respective target application and are ready for use with the customer's application software. Upon request, they can be certified for the intended target market. So OEMs only have to integrate the application-ready platform in their application. That shortens time-to-market, lowers the total cost of ownership and is the foundation for high quality.
www.kontron.com