Kontron now supports PICMG® CompactPCI® specifications CPCI-S.0 and serial mesh based on PICMG® 2.20
At the Embedded World 2013 trade show, Kontron (hall 1, stand 460) has announced the launch of its 'High-Speed CompactPCI® Initiative'. As of today, Kontron will extend its support to include two CompactPCI® standards, CompactPCI® Serial (CPCI-S.0) for 3U form factors with PCIe, GbE, USB and SATA over backplane, as well as CompactPCI® Serial Mesh (based on PICMG® 2.20) for 6U form factors with 10GbE over backplane.
This initiative gives the CompactPCI® bus architecture a next generation product enhancement providing CompactPCI® applications with an enormous performance boost, and extending the investment security of CompactPCI® technology for another decade.
The scope of applications using 3U CompactPCI® Serial (CPCI-S.0) is extremely broad and varied. It ranges from multi-processor systems for the computation of complex imaging processes to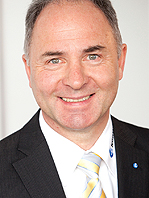 high-performance video or radar data recording through flexible SATA/RAID architectures, and from high bandwidth wireless communication with parallel working radio modules WLAN, UMTS, LTE right up to powerful multi-monitor systems in control rooms.
"CompactPCI® Serial is a logical enhancement to the very successful and worldwide-accepted CompactPCI® specifications. It enables a new generation of high-performance installations requiring massive bandwidth, and also provides a way to boost the performance of any existing CompactPCI® deployments in a wide range of industries," explains Norbert Hauser, Executive Vice President Marketing at Kontron. "CompactPCI® Serial allows data transmission at a rate of several gigabytes per second. By way of comparison, the highest possible data throughput via a parallel 32-bit/66 MHz PCI interface in CompactPCI® is 0.264 GB/s. That means that with CompactPCI® Serial, completely new system configurations become possible, and with 6U CompactPCI® Serial Mesh, 10 Gigabit Ethernet means a huge performance increase too."
For further information, please visit the CompactPCI® Serial (CPCI-S.0) product page
Kontron
www.kontron.com