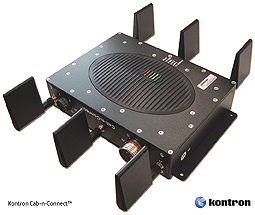 Kontron has expanded its industry-leading line of Cab-n-Connect cabin wireless access points (CWAPs) with a new 28VDC version. Designed for use in business jets and regional aircraft that utilize 28VDC power instead of AC power, enterprise class wireless access point takes advantage of the IEEE 802.11n specification, which increases maximum throughput to 300 megabits per second (mbps) for wireless clients. It is also backwards compatible to 802.11 a/b/g standards, and is based on Motorola's advanced access point technology. The Kontron Cab-n-Connect product family provides secure wireless connectivity for commercial airlines, general aviation and now with the release of a 28VDC power input option, supports the DC requirements of smaller business and regional jets. The unit also supports simultaneous dual radio operation (2.4GHz and 5GHz), is compliant to the I/O requirements of ARINC 763, and can operate in both cabin wireless LAN and terminal wireless LAN modes.
With the growing demand for bandwidth within the aircraft cabin and the trend to provide video streaming to passengers, existing wireless access points using 802.11a/b/g wireless standards are not able to support large numbers of high throughput users on a plane, said Andy Mason, Business Line Manager of Commercial Avionics at Kontron. The Kontron Cab-n-Connect utilizes a unique adaptive architecture that provides intelligent and automatic features to enhance the overall performance and experience for passengers. It does all this at a reduced total cost of ownership to airlines and aircraft owners, and we believe it gives a significant performance advantage over competing airborne access points. The entire Kontron Cab-n-Connect product family has been rigorously tested to DO-160, and the AC power input version has been successfully deployed in numerous narrow-body and wide-body commercial aircraft.
The Kontron Cab-n-Connect line offers a highly cost-effective CWAP solution compared to other solutions on the market.
Kontron
www.kontron.com