Intersil Corporation announced the ISL8240M, a dual 20A/single 40A step-down power module that sets a new standard for efficiency and power density in infrastructure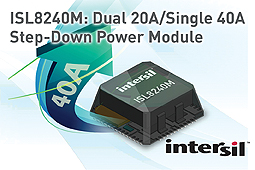 and embedded computing applications. Capable of delivering up to 100W of output power in a 2.9cm2 footprint, greater than 90% power efficiency, and industry-leading thermal performance, the ISL8240M provides designers with a turnkey DC/DC converter solution for high current applications. Today's power systems for communications and computing infrastructure support high current loads from increasingly power hungry FPGAs, ASICs, and microprocessors. To supply these high current circuits, equipment makers often rely on discrete power solutions that are complicated, take up valuable real-estate and may have significant power output limitations. Intersil's power module family reduces design complexity and creates headroom in the power system, increasing flexibility while improving efficiency and thermal performance. The latest addition to Intersil's complete family of power modules, the ISL8240M is pin-to-pin compatible with the company's popular ISL8225M 30A power module, expanding the output current to 40A and delivering up to 100W output power.
This offers designers a high level of flexibility, enabling a single PCB design across platforms. The ISL8240M is also capable of delivering up to 240A output when six modules in parallel operation are current shared, enabling the industry's highest total output current.
Intersil
www.intersil.com