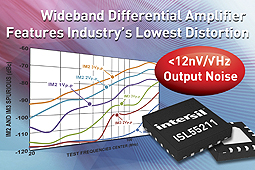 Intersil Corporation has introduced the ISL55211, a low noise, wideband differential amplifier that requires only a single 3.3V power supply and consumes only 35mA quiescent current (155mW).
The ISL55211 is an ultra-low distortion, high-speed differential amplifier that can drive high performance ADCs, such as the recently introduced 14-bit ISLA214P50, with minimal degradation to the ADC's baseline performance. It provides three fixed gain settings of 2x, 4x, and 5x, and maintains a constant 1.4GHz bandwidth and low output noise of < 10nV/ √ Hz for all gain settings. The ISL55211 requires only a single 3.3V power supply and consumes only 35mA quiescent current (155mW). A power shutdown feature reduces the supply current to less than 400microAmps while biasing the outputs at the common mode voltage, protecting attached ADCs from damage and reducing transient recovery time when exiting the shutdown mode. It is an excellent design choice for applications that require a fixed gain amplifier to drive high-speed ADCs in data acquisition systems, instrumentation systems, and communications equipment. The ISL55211 is the second in Intersil's family of differential amplifiers, joining the ISL55210 released earlier this year. Features and Specifications
• Fixed gain settings of 2x, 4x and 5x
• Slew rate of 5,600V/microsecond
• 1.4GHz bandwidth
• Output noise less than 10nV/√Hz
• IM3 distortion less than -100dBc
• Operates from a single 3.3V power supply
• Low quiescent current of 35mW (115mW)
• Shutdown mode reduces quiescent current to less than 400mA
Pricing and Availability
The ISL55211 is available now in a 16-pin, 3mm x 3mm TQFN package, with prices starting at $3.75 each in 1,000-unit quantities. For more information on the ISL55211 please visit http://www.intersil.com/products/deviceinfo.asp?pn=ISL55211. For information on an ISL55210/ISL55211 TQFN-EVALIZ evaluation board contact your local Intersil sales office.
Intersil Corporation
www.intersil.com