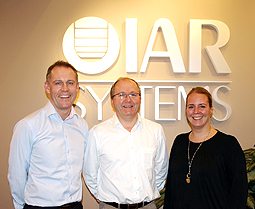 IAR Systems® announces that Embedded Norway AS is the new distributor of IAR Systems products for the Norwegian market as of December 5, 2011.
Embedded Norway AS is founded by Gerd Aida Refvik and Trygve Angell who both has extensive background and experience from application development. Trygve Angell has also been Chairman of the Board for IAR Systems AB from 2006 to 2010.
Embedded Norway AS will sell and support all of IAR Systems products, including the very popular compiler and debugger tool suite IAR Embedded Workbench®.
IAR Embedded Workbench is a high-performance C/C++ compiler and debugger tool suite for applications based on 8-, 16-, and 32-bit microcontrollers. IAR Systems collaborates with all leading silicon vendors worldwide to ensure that the software supports more devices in more processor architectures than any other tool on the market.
The market for embedded systems is growing rapidly and reaches into new market and industry segments. Application vendors need to get new products rapidly to the market place, keeping track of quality in all major parts of the development cycle. IAR Systems with its world class products and services is the leading independent vendor of embedded development tools, facilitating the increased standardization in the market place, delivering flexibility and financial benefits to its customers.
IAR Systems
www.iar.com