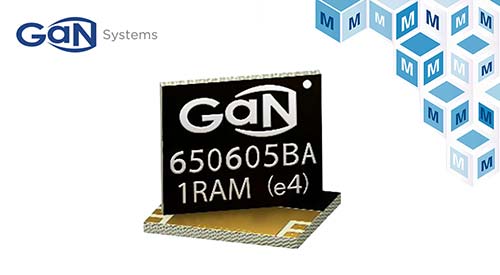 Mouser Electronics, Inc., the industry's leading New Product Introduction (NPI) distributor with the widest selection of semiconductors and electronic components™, is now stocking the GS-065-060 650 V automotive E-Mode gallium nitride (GaN) transistors from GaN Systems. Available in top-cooled and bottom-cooled packages, the GS-065-060 650 V transistors feature an Island Technology cell layout for high current die and high yield. These 650 V automotive E-Mode Gan transistors deliver low junction-to-case thermal resistance and high-efficiency power switching, offering a reliable solution for on-board chargers, DC-DC converters, solar inverters, and industrial motor drives.
The GaN Systems GS-065-060 automotive E-Mode Gan transistors, now available at Mouser, are 650V enhancement mode power transistors with simple gate drive requirements ranging from 0 V to 6 V. The transistors boast a high switching frequency of more than 10 MHz, while delivering fast and controllable fall and rise times. The transistors from GaN systems feature GaNPX® packaging for low inductance and low thermal resistance. The automotive transistors also offer reverse conduction capabilities and zero reverse recovery loss, delivering efficient performance for demanding, high-power applications. The transistors feature dual gate pads for optimal board layout and are RoHS 3-compliant.
To learn more about the GS-065-060 650 650V automotive E-Mode Gan transistors from GaN Systems, visit https://www.mouser.com/new/gan-systems/gan-systems-650v-transistors/.