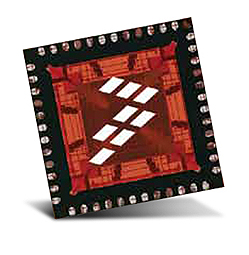 Mouser Electronics, Inc., regarded as a top design engineering resource and global distributor for semiconductors and electronic components, announced it is stocking the Freescale Semiconductor 32-bit Kinetis Cortex™-M4 microcontroller family. Freescale is one of the first companies to introduce production M4 products.
The ARM® Cortex™-M4 processor is the latest embedded processor by ARM specifically developed to address digital signal control markets that demand an efficient, easy-to-use blend of control and signal processing capabilities. Combined high-performance, low-power and low-cost, the Cortex-M4 family is ideal for motor control, automotive, power management, embedded audio, and industrial automation markets.
Freescale Semiconductor 32-bit Kinetis microcontrollers represent the most scalable portfolio of ARM® Cortex™-M4 MCUs in the industry. The Kinetis product line consists of five MCU families with more than 200 pin-, peripheral-, and software-compatible devices with outstanding performance and feature scalability. Also available is a suite of development tools, including controller boards for Freescale's Tower System and evaluation kits, as well as software tools from Keil and Micrium to enable rapid development of new Cortex M4-based systems.
To learn more, visit http://www.mouser.com/freescalekinetis/
With its broad product line and unsurpassed customer service, Mouser caters to design engineers and buyers by delivering What's Next in advanced technologies. Mouser offers customers 19 global support locations and stocks the world's widest selection of the latest semiconductors and electronic components for the newest design projects. Mouser Electronics' website is updated daily and searches more than 8 million products to locate over 2 million orderable part numbers available for easy online purchase. Mouser.com also houses an industry-first interactive catalog, data sheets, supplier-specific reference designs, application notes, technical design information, and engineering tools.
Mouser Electronics
www.mouser.com
Freescale Semiconductor
www.freescale.com