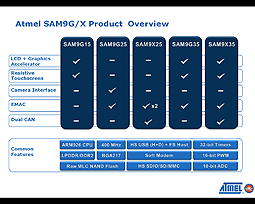 The new SAM9G15, SAM9G25, SAM9G35, and SAM9X25 SAM9X35 expand EMPUS Atmel (Distribution: MSC Vertriebs GmbH) existing ARM ®-based portfolio with several key features that are essential for today's applications. Thus, the replacement of DDR2 SDRAM with memory for memory-intensive applications is made possible through a DDR controller that supports eight banks.
To further reduce system cost, is NAND flash with ECC 24-bit supported. Furthermore, the family provides communication interfaces such as dual 10/100 Ethernet, dual CAN and up to three USB ports (HS, FS USB host and device).
The collaboration with Conexant enabled the implementation of a soft modem into the new SAM9 "5" products. In addition, there are derivatives with an LCD / TFT controller, hardware acceleration for advanced user interfaces, offers as they are challenged in today's industrial applications. The evaluation kit consists of a base board, an LCD module (for the derivatives with LCD controller) and a specific CPU module for each of the five SAM9 "5" products. The SAM9 "5" in the family is BGA217 with 0.8mm ball pitch available.
Atmel supports the new SAM9 "5" Family with Embedded Linux ®, Android ® and Windows ® Embedded BSPs.
For further information please contact MSC Vertriebs GmbH.
Contact: micros-atmel@msc-ge.com
MSC Vertriebs GmbH
www.msc-ge.com