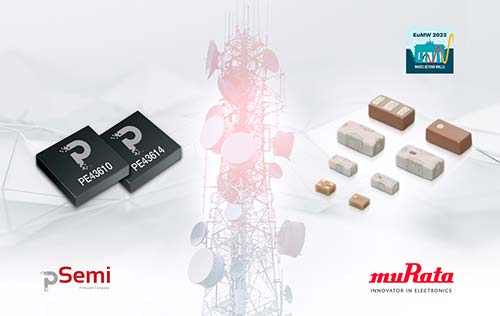 For the first time, Murata will exhibit their products at European Microwave Week (EuMW) 2023 in Berlin. Consisting of no less than three co-located conferences and Europe's largest RF and microwave trade show, the European Microwave Exhibition. This exciting event will offer in-depth coverage of everything microwave and RF related, allowing attendees to get up close with cutting-edge technology and explore the future landscape of wireless communication. EuMW is running from the 17th to 22nd of September and Murata will be present throughout the show at Stand 579C.
The slogan for the 26th edition of the European Microwave Week is "Waves Beyond Walls", with the show exploring how science can help tear down walls and the importance of international exchange. In keeping with this fitting theme (given the host city) Murata will display a broad variety of solutions designed to overcome many of the barriers engineers currently face. Examining how technological innovation can aid the deployment of new communication, cellular, Machine-to-Machine (M2M), base-stations, Wi-Fi and IoT applications, as well as traditional RF applications such as test and measurement and cable broadband.
Passive components have been a core part of Murata's expertise since its inception over 70 years ago. At EuMW 2023, the latest in Low Temperature Co-Fired Ceramic (LTCC) LC filter technology will be on display. With the continual growth in wireless communication and the associated issue of increased interference, reliably filtering unwanted frequencies is vital for any modern wireless enabled device. To help overcome this challenge, Murata produces two dedicated LTCC packaged LC filter ranges – one for Bluetooth/Wi-Fi/ZigBee circuitry and another for cellular. Both product line ups feature tailored operating frequencies for their respective applications, with band-pass, low-pass and high-pass filter variants available.
Another innovation on display is the pioneering Multilayer LCP (liquid crystal polymer) product. This multilayer resin substrate can be cut through laser cutting and bent into shape – enabling complex physical designs that allow you to freely wire circuit boards in three dimensions. With superior high frequency characteristics and a low-profile form factor that permits circuits to be designed in virtually any shape, Murata believes this 'origami-like' substrate will help to create new and previously impossible designs. EuMW presents a chance to see this exciting technology in person, allowing you to explore possible applications with Murata's dedicated team.
Murata will also show their surface acoustic wave (SAW) component range, which includes filters, duplexers, diplexers, resonators and frequency control devices. This portfolio provides RF engineers with an incredibly broad selection of SAW based components, all from one reliable, global manufacturer. Murata's SAW lineup features industry leading size, performance and cost, as well as state-of-the-art production suitable for high-volume and high-performance mobile phone markets. Frequency ranges are from 40 MHz to 2.7 GHz, including specific cellular, ISM, GPS and GNSS bands. Away from passive components, pSemi (Murata's semiconductor division) boasts a broad range of RF switches, attenuators, mixers and LNA switch modules, and will display FR2 beamforming products based on pSemi's cores at the show.
Finally, attendees can explore Murata's RF and microwave switch connector lineup. Designed to enable the reliable testing of RF and microwave circuits, these connectors are suitable for a wide range of cellular, WiMax/UWB, Bluetooth/ZigBee, GPS and microwave measurement radio equipment applications. The broad product portfolio features a variety of sizes and specifications, making them ideal for deployment in both larger electronics, such as personal components as well as smartphones and wearables.
European Microwave Week is a unique opportunity to get up close and personal with the latest technological innovations, as well as experiencing an unrivaled series of seminars and exhibitor workshops. Murata will be onsite at the event throughout its duration, allowing you to explore our pioneering solutions and see how they can accelerate your next microwave or RF deployment.
EuMW takes part in September at Berlin's dedicated HUB27 events venue and we look forward to seeing you at the show. For further information and tickets visit – https://www.eumweek.com/