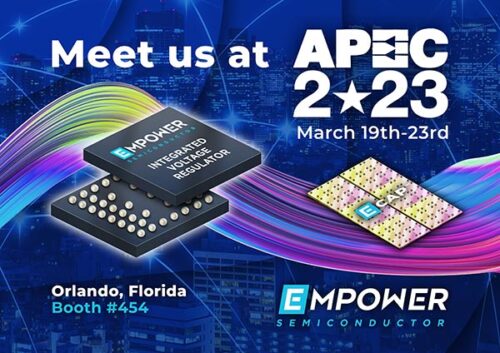 Empower Semiconductor, the world leader in Integrated Voltage Regulators, today announced that it will showcase the EP71xx series device, its latest generation of IVR™ regulator at the upcoming Applied Power Electronics Conference (APEC) in Orlando Florida from March 19th – March 23rd, 2023.
The EP71xx is designed with a state-of-the-art high speed power architecture that delivers industry-leading power density and transient response while virtually integrating and embedding all discrete external components. This unique architecture makes it ideal for use in high-performance data center, networking, telecommunications, computing and medical applications.
Visitors to the Empower booth (#454) will experience firsthand the high integration and compactness of the EP71xx multi power rail single device design and its world's fastest transient response with a live demo. Also on show will be its flexible on-board power sequencer with programmable slew rate, fastest dynamic voltage scaling (DVS) and thermal performance under full load. All visitors to the booth will enter a draw for a chance to win Apple AirTag trackers.
"Empower's R&D team continues to push the boundaries of what is possible in power management." says Tim Phillips, Empower CEO, President and Founder. "APEC is an important event for the power community and the perfect forum for us to connect with power designers and systems architects. The EP71xx series represents a major leap forward from a traditional power solution and we are excited to illustrate how the latest IVR and E-CAP innovations will help designers address the competing demands for performance, higher power densities and long-term sustainability."
Schedule a meeting with the Empower team right away using our online calendar https://bit.ly/Empower-APEC-2023 or email us at sales@empowersemi.com