The new embedded NAND flash memory modules from Toshiba integrate NAND chips fabricated with 19nm second generation process technology. They are fully compliant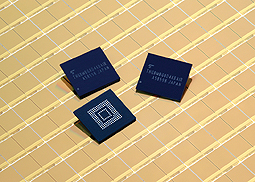 with the latest e.MMC(TM) standard and are designed for applications in a wide range of digital consumer products, including smartphones, tablet PCs and digital video cameras. The NAND flash memory modules are available at distributor Rutronik as of now.
The memory modules are available in a 16GB-version (THGBMBG7D2KBAIL), housed in a 153Ball FBGA 11.5 x 13 x 0.8mm package, and a 32GB-version (THGBMBG8D4KBAIR), housed in a 11.5 x 13 x 1.0mm package. Modules with storage capacities of 4GB, 8GB, 64GB and 128GB will follow. All memories integrate a controller to manage basic control functions for NAND applications.
The 32GB embedded device contains four 64Gbit (equal to 8GB) NAND chips. The memory modules are compliant with JEDEC e.MCC(TM) Version 5.0. The corresponding interface handles essential functions, including writing block management, error correction and driver software. It simplifies the system development, allowing manufacturers to minimize development costs and speed up time to market for new upgraded products. By applying the new HS400 high speed interface standard, a high read/write performance (270MB/s / 90MB/s at 32GB, 270MB/s / 50MB/s at 16GB) is achieved. The operating temperature ranges between -25° and +85°C.
Rutronik
http://www.rutronik.com/d9901115.l