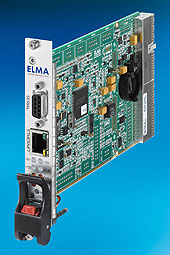 The system specialist ELMA Electronic GmbH, based in Pforzheim Germany, enriches its product range by two very useful improvements. From now on, all type 39 series systems are serially equipped with a new fan controller and optionally with a new system monitor.
The new system monitor can process protocols such as TCP/IP, HTTP, TFTP, SNMP V2, DHCP and Telnet what enables the user to control the system via remote access. Voltage, temperature and fan speed values can be retrieved from the system or special "events" can be set.
With the new fan controller, many system settings that so far had to be taken statically can now be preset. Thanks to the integrated micro controller, the user can define temperature regulation
and time of ventilation autostart function via serial interface. Values to be controlled are easily accessible via I2C or serial interface. Furthermore, it is possible to activate digital temperature sensors at the fan controller or to connect a LCD display and visualize current temperature and fan speed of the system.
In parallel to these upgrades, the company starts a special sales campaign, where various CompactPCI systems of the type 39 series are offered at a very favourable price. All systems included into this offer are already equipped with the new fan controller. The system monitor can be added optionally.
ELMA Electronic
www.elma.com