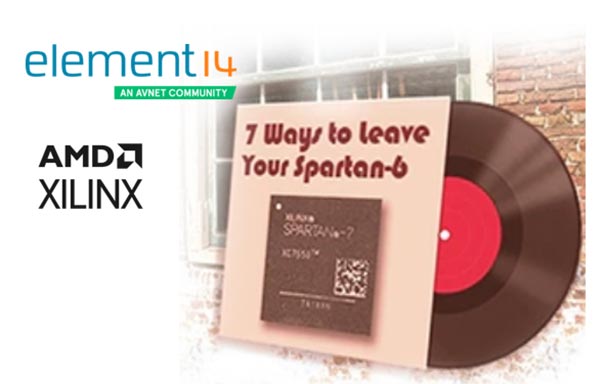 element14, an Avnet community, has announced the "7 Ways to Leave Your Spartan-6" FPGA competition to help teach element14 Community members about the migration from the Spartan-6 to the Spartan-7 FPGA amid current parts shortages.
element14 community members will have time till July 7, 2022 to play along in the competition to win prizes including a Samsung Galaxy Book Flex, Samsung Galaxy Watch Active2, iPad Air and an Apple Watch Series 7. Every two weeks, element14 will go live with a new activity that will help participants better understand the Spartan-6 to Spartan-7 migration with judges awarding participants points for every activity they partake in. At the end of the program, element14 will tally up the points, and the top scorers will be awarded prizes.
"As parts shortages force engineers and developers to adapt to new technologies, element14 is excited to bring a hands-on educational competition to our community members in an effort to support their comfortability working with the newest devices on the market," said Dianne Kibbey, Global Head of Community and Social Media for element14. "We look forward to seeing all the ways our community members explore the migration from the Spartan-6 FPGA to the 7 Series."
Educational activities that will earn element14 Community members points include:
Make a Plan (+5 points): Create a plan on how you will learn the Spartan-7 FPGA and post it on element14.
Write a Blog (+10 points): Compare the differences between the Spartan-6 and Spartan-7 FPGAs.
Take a Quiz (+10 points): Using this guide to the Spartan-6 to Series 7 migration, answer five quiz questions.
Build a Project (up to 50 points): Build something on the Arty S7.
Add a Sensor (up to 50 points): Add a sensor to the project you created.
Do an Experiment (up to 50 points): Using the project you built, create an experiment with the Spartan-7.
What did you learn? (up to 15 points): Write a blog on what you learned about the Spartan-7 FPGA.
Final submissions must be posted by July 7 to be eligible to earn points. The grand prize winner will receive a Samsung Galaxy Book Flex with an S Pen and a Samsung Galaxy Watch Active2. The second place prize winner will receive an iPad Air and Apple Watch Series 7. The third place prize winner will receive an Audio-Technica AT-LP60XBT-BK fully automatic Bluetooth belt-drive stereo turntable, a Bose SoundLink Revolve+ II Bluetooth speaker, and Bose Frames Tenor audio sunglasses. Judges will also be rewarding an honorable mention with the second generation Lenovo Tab M8.
element14 Community members can sign up for the competition and keep up with biweekly activities by visiting: https://community.element14.com/technologies/fpga-group/w/documents/27537/7-ways-to-leave-your-spartan-6-fpga?ICID=fpga-main-topbanner