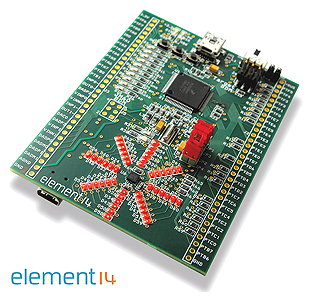 element14, a social community for electronic design engineers announced with Freescale(TM) Semiconductor, the addition of its latest innovation, the XL_STAR, an 8-Bit MCU based development environment, debugger and accelerometer demonstration board. The XL_STAR is a multifunction development tool for both hardware and software engineers that simplifies and speeds the development of code and movement detection functionality in portable, low power designs.
The XL_STAR offers a complete MCU development environment, combining the low power versatility of Freescale's 8-Bit MC9S08MM128 MCU and a free version of Freescale's CodeWarrior for Microcontrollers, now capable of generating up to 64Kbytes of object code from either assembler or C source code. This update to CodeWarrior allows > 80% of Freescale's HCS08 8-bit MCU family to be targeted for code development free of charge. XL_STAR also supports Freescale's Flexis family allowing for migration to 32-bit MCUs for higher performance without the need for PCB redesign.
Through this strategic partnership with Freescale, XL_STAR is now available in Farnell product offer. element14 is an innovative technology portal and social community for electronic designing engineers, which provide users with Web 2.0 functions as well as access to 10,000 technical documents, hardware and software tools.
"We are continually committed to meet and exceed the design needs of electronic design engineers, empowering them in their work to create world class designs and products," said David Shen, Group Senior Vice President and Global Head of Technical Marketing at Premier Farnell. "Our partnership with Freescale to create the XL_STAR demonstrates our commitment to providing design engineers the best tools for their product developments. Innovations like this from element14 are paramount, and we will continue to support design engineers globally with the latest technologies available."
element14's mission is to empower the electronics design community through superior information, resources and products. If you are keen to experiment with the XL_STAR right out of the box, just switch on the board and try the pre-programmed application. The XL_STAR features a number of pre-programmed demonstrations designed to show some of the applications you can perform with the on-board accelerometer.
www.element14.com
www.freescale.com