Diamond Systems Corporation unveiled its rugged COM-based highly integrated Vega single board computer family. Highlights of the Vega family include interchangeable COM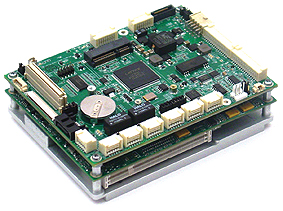 Express COMs for scalability and long product life, high feature density in a compact size, integrated high-quality data acquisition, expandable I/O, conduction cooled thermal solution for improved reliability, and rugged construction.
Designed in the COM Express Basic form factor (125 × 95mm / 4.92 × 3.74 in), the Vega family offers performance scalability with three COM Express processor options: 2.1GHz Intel Core i7-3612QE, 1.7GHz Intel Core i7-3517UE, and 1.4GHz Intel Celeron 827E CPU. The use of interchangeable COM Express modules helps extend product lifecycles or keep up with new market needs by making it easy to replace an obsolete CPU or increase processing performance simply by replacing the COM module. Vega is therefore an excellent choice for applications with expected lifetimes of 10 or more years.
Vega's two-board COM + baseboard construction yields the highest feature density possible in a given footprint. Vega utilizes a highly integrated baseboard with a wide range of I/O, including a full data acquisition circuit that normally calls for a separate I/O board. Standard PC-type I/O includes VGA and dual-channel LVDS display, 4 USB 2.0 ports, 4 RS-232/422/485 ports, dual Gigabit Ethernet, SATA, and HD audio. Vega SBCs also feature a 7-36V wide range high-efficiency power supply, making them compatible with most common vehicle and industrial power supply voltages.
The integrated data acquisition includes 16-bit A/D and D/A, digital I/O, and counter/timers, all supported by Diamond's free, industry-leading Universal Driver™ data acquisition programming library. An interactive graphical control panel for Windows and Linux is also provided to control all data acquisition features.
Vega SBCs support stackable I/O expansion with EMX I/O modules as well as a dual-use PCIe MiniCard / mSATA socket for additional I/O expansion. I/O modules featuring serial ports, Ethernet, analog I/O, digital I/O, CAN, and WiFi are available from Diamond and other vendors in the PCIe MiniCard form factor, providing low-cost, compact I/O expansion without increasing the total height of the system. For rugged applications, wide temperature mSATA disk modules in either SLC or MLC technologies are available with up to 64GB capacity.
Diamond Systems
www.diamondsystems.com