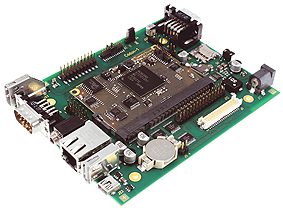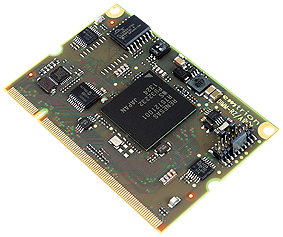 emtrion extends its DIMM family with a new industrial processor module, based on the Cortex-A9 RZ/A1 family from Renesas. It is available at distributor Rutronik as of now.
The module is fully compatible with the other modules of the emtrion DIMM series, both electrically and mechanically. It can be put into operation immediately on one of emtrion's baseboards. In addition to its attractive pricing, the module convinces with the possibility of using it unmodified in
series production, or integrating it with little effort into a custom layout.
The emtrion industrial embedded module with processor RZ/A1 comes without external RAM and uses the built-in 10MB memory. Its temperature range is from -40° to +85°C. The DIMM RZ/Ah1 is now available with BSP for Linux (Yocto) or for ThreadX, other BSPs for FreeRTOS and emboss are following. The BSP gets delivered with the starter kit, each kit contains a DIMM RZ/A1H module, a base board and corresponding development environment. A display is optionally available.
Rutronik
www.rutronik.com/88750ff3.l