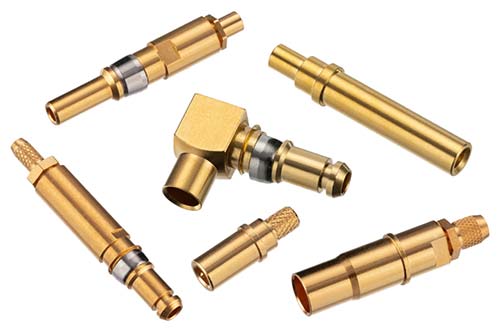 Now available through East Coast Microwave, a subsidiary of Powell Electronics, the supplier of connectors and more for high-rel applications including defence, aerospace and industrial, are PkZ series blindmate RF contacts from Phoenix Company of Chicago. With a constant impedance up to a .090" axial mating tolerance, the components feature the widest axial mating tolerance of blindmate RF contacts currently available on the market. This enables the contacts to accommodate large radial and axial misalignment tolerances found in modular applications, e.g. in aerospace and vehicle communication systems, test systems, radar systems, UAV systems etc.
The unique design of the high performance and reliable PkZ series contacts benefits from very low mating forces and provides constant impedance even as differences in mating profiles or gaps are created in the mating interface. This eliminates elaborate methods such as an internal spring to overcome mating gaps.
Available as MIL-DTL-38999 size 12 RF contacts for a frequency range from DC up to 40 GHz (178 series), MIL-DTL-38999 size 8 RF contacts for low loss cable for a frequency range from DC up to 32GHz (78 series) and ARINC microwave size 8 Coax contacts for ARINC connectors (600 series) for a frequency range from DC up to 32 GHz (68 series), the components are ideally suited for a wide range of connector housings including: D-Subs, High Density D-Subs, DIN 41612, 4-Position Inserts, ARINC, MIL-DTL-38999 as well as custom housings.
For further information please visit: https://www.powell.com/e2wItemAdvanceSearch.aspx?ManufacturerName=Phoenix%20of%20Chicago