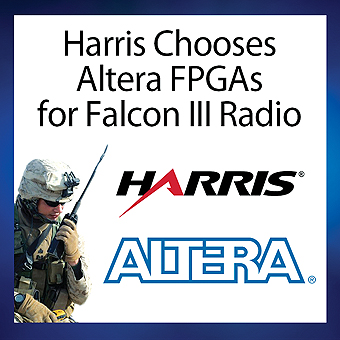 Altera Corporation announced that its 28 nm Cyclone® V field-programmable gate arrays (FPGAs) have been chosen by Harris Corporation for its newest Falcon® III wideband tactical radio.
The radio, currently in production, has been designated by the U.S. National Security Agency (NSA) to be NSA Type-1 certified, enabling Harris to field the radio for secure voice and data communications.
Altera also announced it has successfully completed the NSA Information Assurance Directorate (IAD) Secure Implementation Guidelines (SIG) document, which provides unified government recommendations on the use of security settings in Altera FPGA and SoC products and how these products can be used most securely to mitigate security threats in system designs.
Harris Radio in a Smaller Package with Industry-Leading Longer Battery Life Faced with weight, power and battery life constraints when designing applications for demanding military field operations, Harris chose Altera Cyclone V FPGAs to implement the radio modem and cryptography functionality. Altera's Cyclone V FPGAs offer low power, small packaging and quick time-to-market, enabling Harris to deliver a smaller, lighter secure radio with a significantly longer battery life to soldiers in the field, ahead of the competition. For information on Altera's comprehensive FPGA and SoC product portfolio, including FPGAs, SoCs with embedded ARM® processors, Enpirion® power control solutions and the industry's most extensive set of military system solutions, contact your local Altera sales representative.
Altera
www.altera.com