Altera Corporation announced that its Arria® 10 FPGAs have been chosen by Silkan, a provider of real-time data transmission, for its new deterministic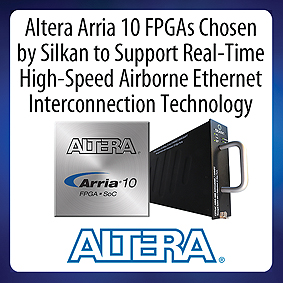 real-time high-speed Ethernet interconnection technology.
The Silkan CETRAC switch is a plug-and-play solution, using an Ethernet cable to connect critical systems in aerospace and defense (A&D) and instrumentations & controls (I&C) markets. It was developed to provide safe connectivity, low latency, and rapid delivery of information between these onboard systems, without any data corruption. The solution also supports avionics applications that must meet the requirements for Design Level Assurance (DAL) A, and B, two of the highest safety levels in avionics.
Altera Arria 10 enables Silkan to meet Ethernet IEEE802.3 standards with a one-chip programmable platform, and to achieve new levels of performance, and improve connectivity safety and reliability, along a lower cost of ownership. CETRAC switches can also support non-critical applications needed in flight, offering guaranteed data integrity and low latency.
CETRAC is also provided as IP core and is embeddable in Line-Replaceable Unit (LRU), which is a modular component on an airplane, ship or spacecraft. CETRAC offers full retro-compatibility with the company's Arion100 product, an integrated, industrial, and real-time environment providing complete virtualization for a system.
Altera
www.altera.com
Silkan CETRAC
www.silkan.com/cetrac