Aito BV, the leader in software enhanced piezo (SEP) touch control technology, introduced its ATB250 AitoTouch Controller, which provides a highly configurable user interface for up to 11 touch buttons.
Aito's SEP technology allows the creation of seamless touch keys on any surface, replacing traditional mechanical switches and overcoming the problems of capacitive and other touch technologies that either require significant button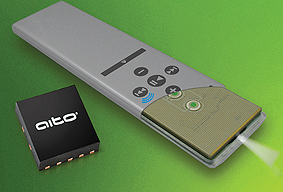 travel or will not operate with gloved hands or through metal panel overlays. Target markets are those where this capability adds value in design aesthetics and functionality to provide a quality user experience. Applications include: kitchen appliances, such as ovens, hobs, hoods, refrigerators, coffee machines, toasters, as well as consumer audio / video and home automation products, but also medical equipment and industrial controls, where the benefits of sealed panels and robust, reliable operation are vital.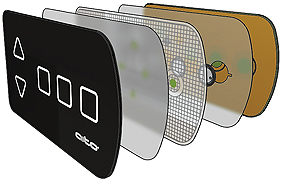 The ATB250 controller provides a combination of input and output channels to support up to 11 piezo touch buttons, each with drivers for LED indicators to provide visual feedback, along with a single buzzer output for audible feedback. The piezo sensing parameters for each key can be individually configured for sensitivity, detection area and to cope with different overlay stiffness or mechanical integration conditions. The LED and buzzer feedback patterns can be customized for each key. For easy integration into existing hardware, the device offers SPI, I2C and DEO (Digital Encoded Output) mode interfaces for communication with the host processor.
Aito is the leading solution provider in the SEP consortium of companies, which promotes 'best practice' for SEP touch technology software. Other partners include approved MCU platform and component suppliers. The ATB250 represents the latest development of SEP, bringing the technology to a whole new level of software configurability by increasing the scalability of SEP touch modules and, in turn, reducing product development cycles and the cost of manufacturing.
Aito
www.aitochip.com