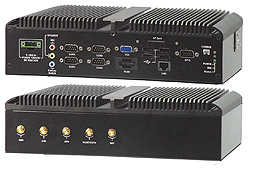 Fanless In-vehicle PC supports Atom D425/D525, wide range voltage, power management, and wireless communication for vehicle applications.
Utilizing the in vehicle computer with Telematics technology in a commercial environment vehicle can be a power tool to improve the organization efficiency. Some applications of vehicle telematics include fleet management, vehicle/trailer tracking, satellite navigation, mobile data, wireless vehicle communication, vehicle safety warning system and intelligent vehicle.
The industrial computer manufacturer Acrosser Technology designs a series of in vehicle computers for telematics applications. Today Acrosser launches his latest Telematics In Vehicle Computer AR-V6002FL after his success in booming telematics market.
AR-V6002FL fanless In-Vehicle computer is based on Intel Atom D425/D525 single /dual core processer.
AR-V6002FL is designed with standard power input for car battery of 12V/24V, capability to operate in rugged environment of -20 to 50 degrees, standard vehicle certification of CE, FCC class B and E-Mark 13, and can withstand shock and vibration up to 2G follow IEC60068, which allow system integrators to implement the accessories to fulfill vehicle application, such as Fleet management, Telemetric, Traffic safety control and numerous other vehicles.
ACROSSER
www.acrosser.com