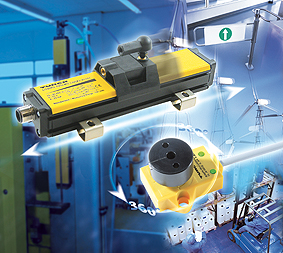 Inductive resonant circuit technology ushers in a new era of position detection
by Andre Brauers, Product Manager for Linear Displacement Sensors and Rotary Encoders, Turck Germany (Mulheim)
There are plenty of sensors for measuring distances and angles in industrial applications, as well as different measuring methods. When introducing a new sensor to the market, a company must provide more than just new housing and slight accuracy improvements. Turck, the sensor, interface, fieldbus and connection specialist, has introduced a new measuring principle that ushers in a new era for distance and angular measurement.
The biggest challenge is the transmission of the current position to the measuring system. the easiest way to accomplish this is a direct mechanical connection between the position detection and the sensor, like a potentiometric sensor. though these sensors are inexpensive, they have their disadvantages; installation is a huge effort, especially achieving the exact axial adjustment. For fast rotations, there is an additional torsion spring coupling necessary to compensate for the vibrations. Furthermore, it is necessary to cover potentiometric odometers if they stick out from the machine. Last but not least, there is no enclosed housing possible for these sensors, which means a higher susceptibility to failure.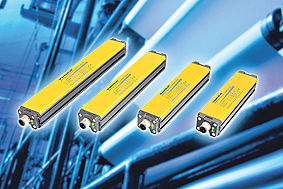 With the use of magnetic position detectors, a mechanical connection to the sensor is unnecessary. Corresponding systems deliver exact results of measurement and do not wear because of their enclosed housings. Although they are more expensive than alternative sensing options, linear displacement and angle sensors with magnetic position detectors are used in numerous applications, but they are not suitable where metallic splinters or electromagnetic fields are present. Furthermore, magnetostrictive linear displacement sensors have a large blind zone of up to 80 mm at each side: with an installation length of 200mm, the user would have to trade off a measuring range of 40mm with a blind zone of 160mm.
Resonant circuit principle provides alternative
Turck developed new linear displacement and angle sensors that overcome these challenges. Unlike magnetostrictive or conventional inductive position sensors that use magnets to detect position, the new sensor detects an object's position via a resonant positioning device.
The functional principle: A transmitter coil integrated into the IP67-rated housing generates a high-frequency alternating field that activates the resonator integrated into the positioning device. Each time the transmitting coil stops transmitting, the resonator induces voltage into two receiving coils integrated into the sensor. The voltage intensity depends on where the positioning device overlaps the receiving coils. An integrated processor provides a corresponding proportional output signal in different formats: 0 to 10V, 4 to 20mA, IO-Link or SSI. The linear displacement sensors of Turck's LI-family have a resolution of up to 1 μm and the resolution of the angular sensors of the RI-family is up to 0.005?.
Turck's LI-sensor has high accuracy and reproducibility: To increase the measuring accuracy and the flexibility, the developers from Turck equipped the sensors with a coarse and a fine receiving coil system. The coarse system locates the resonant positioning device and finds out in which segment it is located. Then the sensitive receiving coil system performs a measurement that shows a high-precision determination of position. The advantage of this procedure is sensor to element distance independence resulting in consistent accuracy and reproducibility with the LI-sensor.
Fail-safe measuring system
Unlike magnetostrictive sensors, this resonant circuit principle is completely immune to external electromagnetic fields, and since there are no magnets involved, splinters that may affect the sensor's function do not accumulate on the positioning device. Unlike potentiometric detection solutions, not even dirt or dampness affect the sensor – thanks to a fully sealed housing. Moreover, the coils' special design guarantees that the output signal is not affected by the distance between the sensor and the positioning device. Because of this, measuring errors caused by slight deviations are effectively eliminated, as long as it is within the sensors 0 to 4 mm measuring range.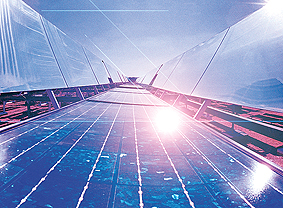 Wide range of application
The sensor's flexibility allows users to apply it to diverse applications like injection molding machines or metal working, where chippings or external magnetic fields might affect the sensor's functionality. The versatile LI-sensor series helps users optimize their applications and increase the machine's availability. Turck's linear displacement sensors are also suited for welding machines, as they are absolutely insensitive to strong magnetic fields that occur during welding processes. This feature allows users to utilize inductive linear displacement sensors in various applications like machine tools, molding presses, rolling machines, die-casting, bending or lining machines, dosing systems, mixing units, packing machines, wind turbines or stroke and alignment control systems.
With its high interference resistance and infinite mechanical life-span, RI-sensors for angle detection are suitable for numerous tough applications. For example, when adjusting rotor blades at wind energy plants, tracking solar panels or swiveling handles at the entry of a supermarket.
Easy to adapt
Due to their high accuracy and resistance to interference, the wear-free LI- and RI-sensors can replace many current solutions for distance and angular measurement. The linear displacement sensors include features that make them easy to apply in many areas. Opposite to the active sensing face, the sensor housing features an aluminum profile that allows easy application via optional mounting accessories, and stainless steel accessories provide safe mounting and flexibility with regard to the alignment of the sensor. Extremely short blind zones of only 30mm on each side, along with a wide temperature range of -25 to 70?C and the option to adapt the sensor by programming it to different measuring ranges, allows users to dispense with special sensors for specific applications. Using only one sensor family for measuring ranges between 100 and 1,000mm simplifies warehousing and helps users reduce their total cost of ownership.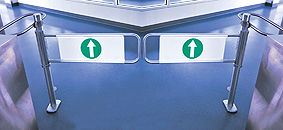 The RI-angular sensors can be easily attached with two shoulder bolts to solid or hollow shafts. With the help of an adapter with a diameter of 6mm and 8mm, a standardized hollow shaft sensor can be altered into a solid shaft sensor.
Both sensor families are available with different outputs: current/voltage and SSI-interface. Users can rely on Turck for the most versatile linear displacement solution for their application. Flexible output configurations allow the sensor to be easily integrated into existing automation structures. Whether the application calls for an analog output, IO-Link or SSI, a standard M12?1 connector provides a convenient connection to a wide range of fieldbus installations, including Turck's BL20, BL67 and BL Compact families.
LI-version with IO-Link
The LI-sensor is also available as a programmable highend-model with an IO-Link interface where the user can define the measurement range, as well as the output signal from 0.5 to 4.5V. Furthermore, up to four switching points can be adjusted.
Based on the popular three-wire technology, the IO-Link standard enables users to commission their intelligent field devices faster and maintain them more conveniently. Requiring only one cable for data transmission and power supply, IO-Link simplifies connection diagrams and reduces cabling expenses, in addition to allowing users to download device parameters from one sensor to an identical replacement sensor.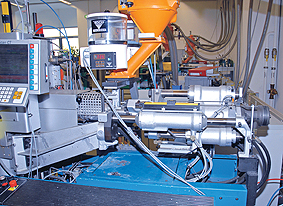 In this way, cumbersome manual parameterization on site becomes unnecessary. Since IO-Link sensors may provide additional diagnostics data via the combined process/configuration data channel, failures can be localized faster – allowing plant operators to reduce machine downtime significantly. Turck provides a corresponding driver – the device type manager, DTM – for its new LI-Q25 series. Allowing user-friendly visualization via a non-proprietary software tool like PACT ware, DTM enables users to manage and parameterize their intelligent sensors with only a few mouse-clicks.
Conclusion
Based on the resonant circuit principle, the new linear displacement and angle sensors can be used in a wide area of applications that could not be solved efficiently in the past. Whether an application contains short or long-range distances, limited installation space or external interferences – Turck's new LI- and RI-sensors offer a flexible solution that can easily be applied to various applications. Turck de?veloped the new sensors true to their motto "Sense it, Connect it, Bus it, Solve it" – meaning not only to supply single components, but integrated solutions.
www.turck.com