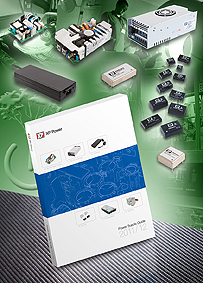 XP Power announces the availability of their new Power Supply Guide for 2011/2012. The guide, comprising 296 pages, is the most comprehensive ever produced by the company and highlights over 60 new product ranges added since the last edition. New products featured include the ultra compact EMH series of digitally controlled 250/350 Watt AC-DC power supplies measuring 76.2 x 127 mm (3 x 5 inch) and the compact ECS60 60 Watt "green" power supply measuring just 50.8 x 76.2 mm (2 x 3 inches). Another new product introduction is the AHM series of 85 – 250 W AC-DC external power supplies that meet Energy Efficiency Level V and also have medical and IT equipment safety approvals. DC-DC converter range additions include the JTK20 20W that features a wide input range in a compact 25.4 x 25.4 mm (1 x 1 inch) package.
The guide provides detailed information on AC-DC products ranging from 5 Watts to 3,000 Watts, including open-frame, U-channel, desktop, pcb-mount, DIN rail and LED power supplies. DC-DC converters rated from 0.25 Watt to 600 Watts are highlighted, with component based power modules and filters also featured.
The front part of the guide highlights information about the company. One section provides an insight into XP Power's industry expertise in their focus markets: industrial, healthcare and technology. A short section on Green Power gives a concise summary of the latest energy efficiency standards and provides a definition of XP Power's own Green Power mark for new energy efficient products for both external and component power supplies. Another section details the companies Engineering Services business that provides solutions where applications cannot be fulfilled from their standard product range or where integrated products are required. Additional selector guides aid the reader to quickly identify suitable power supplies based on power, size and type.
To assist customers in determining what products are available through catalogue distribution, datasheets indicate availability of specific parts from the Newark, Farnell and element14 catalogues and websites. A helpful cross-reference list at the back of the guide details their stock numbers against the XP Power part number.
www.xppower.com