Kontron introduced the 6U CompactPCI processor board CP6003-SA based on the 2nd generation Intel Core i5/i7 mobile processor technology. Designed to bring leading-edge performance with low power consumption and low heat dissipation to a broad range of applications, the Kontron CP6003-SA is an ideal fit for communications, military, aerospace, medical, industrial and monitoring systems.
Equipped with up to the 2.10 GHz Quad-Core Intel Core i7-2715QE and long-term availability, the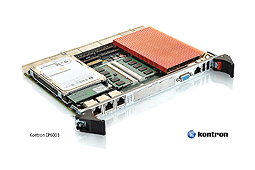 Kontron CP6003-SA (Standard Air-Cooled) not only speeds up vector operations required for imaging and floating-point applications via Advanced Vector Extension (Intel AVX), but also processes single-threaded tasks much faster thanks to the Intel Turbo Boost technology 2.0. This allows for a clock speed of up to 3.10 GHz without the need to oversize the entire system for peak loads. First benchmarks show a performance gain of more than 200 percent for the CPU (Dhrystone Alu MIPS) as compared to platforms with the previous Intel Core i7 processor and comparable core speed. Additionally, users benefit from a 50 percent performance/watt ratio improvement on average compared to designs with the previous Intel Core processor architecture. Furthermore, the Kontron CP6003-SA also brings OpenGL-based applications to CompactPCI unifying the Software basis for high performance embedded computing and therefore reducing the development effort and time-to-market.
On the memory side, up to 16 GB of DDR3 1600MHz (1333MHz Dual-Core) ECC memory ensures data accuracy for demanding and safety-critical applications like radar, sonar or imaging systems. In addition to an on-board HDD or SDD, up to 32 GB of NAND Flash can be integrated via SATA interface, to hold complete operating systems or application code, which substantially increases overall system speed and availability.
For maximum application flexibility the Kontron CompactPCI processor board CP6003-SA comes with an extensive range of interfaces: 6x SATA ports with RAID 0/1/5/10 functionality for enhanced data security, 6x USB 2.0 ports, 2x RS232 ports, VGA, dual HDMI and High Definition Audio (HDA) interfaces as well as 5x Gigabit Ethernet interfaces connected via PCI Express to meet the high performance requirements of communications applications. One of the 6 available SATA ports can be used for an onboard 2.5 inch SATA hard drive. An XMC socket (via PCI Express x8) or PMC socket for mezzanine cards ensure plenty of room for customized expansions, like the dual 10 Gigabit Ethernet network interface card Kontron Kontron XMC401.
www.kontron.com