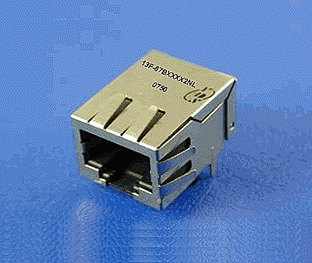 The continuing demand for higher functionality and smaller equipment size require smaller and smaller components. This is also true for connectors. Therefore the 13F-6X RJ-45 jacks from YDS (Distributor:MSC Vertriebs GmbH) in Single Small Module form factor are more and more used by system designers. Including integrated Ethernet magnetics these RJ45 jacks measure just 15.1 x 17.6 mm with only 11.5 mm profile.
With more than fifty different magnetic configurations system designers can choose the exact fitting Single Small Module for every PHY. All models meet or exceed IEEE 802.3 and ANSI X3.263 standards, including ≥ 350 µH OCL at 8 mA and 1500 Veff minimum isolation. They are designed for 100 base transmissions over UTP-5 cable. All models feature low crosstalk, low insertion loss and high return loss.
The Single Small Modules are a tab-down design. They are RoHS compliant and withstand soldering temperatures up to 250 degree C. Just as the traditional 13F6X series form factors the Single Small Modules are a perfect and cost-optimised solution for industrial computers, network equipment, industrial controls and other systems with 10/100 Base-T Ethernet.
www.msc-ge.com