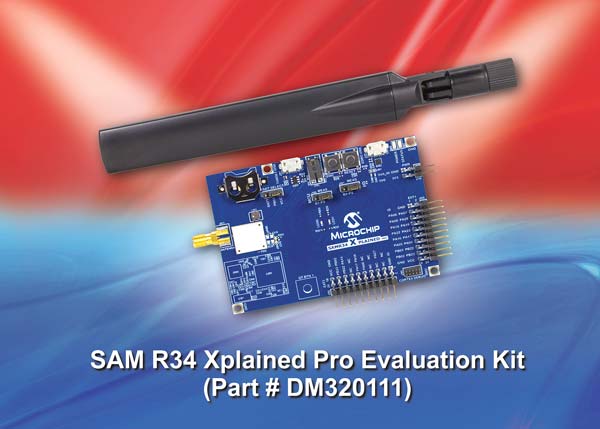 Microchip's SAM R34 Xplained Pro Evaluation Kit is a hardware platform used to evaluate the ATSAMR34 low power LoRa® Sub-GHz SiP, designed to enable long-range wireless connectivity while extending system battery life.
The highly integrated LoRa SiP family combines an ultra-low-power 32-bit microcontroller, sub-GHz RF LoRa transceiver and software stack and is supported by certified reference designs and proven interoperability with major LoRaWAN™ gateway and network providers, significantly simplifying the entire development process with hardware, software and support. The devices also provide the industry's lowest power consumption in sleep modes, offering extended battery life in remote IoT nodes.
Supported by the Atmel Studio integrated development platform, the kit provides easy access to the features of the ATSAMR34 and explains how to integrate the device in a custom design.  This FCC, ISED and RED certified board is not only an evaluation platform but also an excellent reference design for developing SAMR34 based LoRa end-node applications.
This kit is supported by the Atmel Studio, an integrated development platform, which provides predefined application examples. The kit also provides easy access to various features of the ATSAMR34J18B device and offers additional peripherals to extend the features of the board and ease the development of custom designs.
For your chance to win a SAM R34 Xplained Pro Evaluation Kit visit
http://page.microchip.com/Elec-Azi-Int-SAM-R34.html  and enter your details in the online entry form.