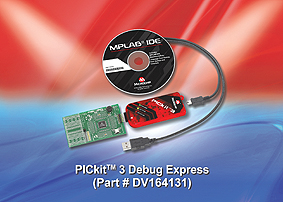 EP&Dee is offering its readers the chance to win the new MPLAB PICkit 3 Debug Express kit from Microchip. The PICkit 3 Debug Express allows debugging and programming of PIC® and dsPIC® Flash microcontrollers at a low price point using the powerful graphical user interface of the MPLAB Integrated Development Environment (IDE). The PICkit 3 Debug Express works with 8- and 16-bit PIC® MCUs and dsPIC® digital signal controllers (DSCs), and will support 32-bit PIC MCUs at a later date.
The PICkit 3 Debug Express kit includes PICkit 3 debugger and programmer probe, 44-pin demo board populated with a PIC18F45K20 MCU, free MPLAB® IDE and free version of the MPLAB C Compiler for PIC18 MCUs. All this is supported by easy-to-understand lessons and tutorials, and a host of other software utilities, examples with source code and full documentation.
For your chance to win a Microchip PICkit 3 Debug Express kit, visit www.microchip-comps.com/epdee-pickit-3 and enter your details in the online entry form.