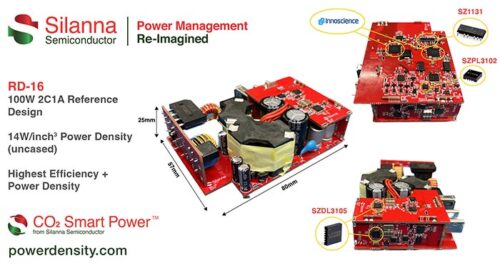 Silanna Semiconductor, The Power Density Leader, has expanded its family of fast charger reference designs with the company's first 100W multi-port offering. Built around Silanna's CO2 Smart Power™ advanced AC/DC controllers and high-frequency DC/DC converters, the RD-16 integrates a front-end PFC converter stage and provides a high-power-density, ultra-efficient, production-ready solution for multi-port 100W USB-PD applications delivering currents up to 5A.
Silanna's RD-16 is a GaN-based solution that will simplify and speed charger development by providing everything an engineer needs to rapidly prototype and test a fully functional 100W 2C1A multi-port unit. The design is based on the AnyPort™ architecture, which offers the flexibility to complete a charger design for a given power level prior to specifying and configuring the specific number and type of output ports. By allowing a single base charger design to be deployed across a variety of end products with different output configurations, AnyPort can significantly reduce the complexity of fast chargers and adapters with multiple Type-C and/or Type-A output ports.
The RD-16 brings together Silanna's SZ1131 fully-integrated AC/DC active clamp flyback (ACF) controller and the company's SZDL3105 and SZPL3102S high-voltage, high-efficiency integrated buck converters offering ratings of 100W and 65W respectively. End-to-end peak efficiency exceeds 92% and is relatively flat across the universal input voltage range (90 – 265Vac). Because the reference design exceeds conducted and radiated EMI requirements, it eliminates the need for pre-production validation and certification, speeding up the production cycle.
"Our aim is to provide designers with all the tools and support they need to rapidly develop high-efficiency, small form factor, low component counts fast chargers," says Ahsan Zaman, Silanna Semiconductor's, Director of Product Marketing. "By combining our CO2 Smart Power family of advanced AC/DC and DC/DC technologies with GaN power switching and our innovative and flexible AnyPort architecture the RD-16 offers the fastest possible route from prototyping to full production for 100W fast chargers with any number or type of output ports."
The RD-16 is the latest addition to Silanna's comprehensive family of production-ready reference designs that provide everything needed to develop high-density chargers with low operational and no-load/ stand-by power consumption and minimum component count, BOM cost and size. This family includes all-silicon 33W and 45W solutions and silicon- and GaN-based single- and multiple-output 65W USB-PD reference designs. Full availability of PCB Gerber and production files further reduces the time from prototyping to full production.
RD-16 Key Features
100W 2C1A high-power-density AnyPort™ reference design with Innoscience GaN power transistor
> 92% peak efficiency
14W/inch3 uncased power density
Flat efficiency across universal (90 – 265Vac) input voltage and load
Uses Silanna Semiconductor's newest fully integrated ACF controller (SZ1131)

SZ1131 integrates ACF controller with UHV active clamp FET, active clamp driver, and start-up regulator
Up to 146kHz switching frequency operation
OptiMode™ cycle-by-cycle adaptive digital control
Self-tuning valley mode switching (VMS)
Multi-mode operation (burst mode, QR, VMS)
OTP, OVP, OCP, OPP, and output short circuit protections
Space-saving 16-pin SOIC package
Uses Silanna Semiconductor's high-voltage, high-efficiency 100W integrated buck converter (SZDL3105)

Selectable switching frequency up to 2MHz
Optimal high efficiencies for 3.3V to 21V VOUT
Maximum output current of 5A
Wide input voltage range: 7V to 27V
Selectable soft start times
OCP/OVP/OTP protection
Programmable UVLO
4mm x 4mm QFN package

Uses Silanna Semiconductor's high-voltage, high-efficiency 65W integrated buck converter (SZPL3102)

Selectable switching frequency up to 2MHz
Optimal high efficiencies for 3.3V to 21V VOUT
Maximum output current of 3.25A
Wide input voltage range: 7V to 27V
Selectable soft start times
OCP/OVP/OTP protection
Programmable UVLO
3mm x 3mm QFN package

CO2 Smart Power by Silanna Semiconductor