Renesas Electronics Europe announced the release of the "Connect it! – Wireless M-Bus 868 MHz" and "Connect it! – Wireless M-Bus 169 MHz" solution kits. These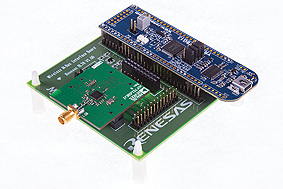 platforms enable engineers to save time by re-using existing Wireless M-Bus solutions to add communication capabilities to their metering applications.
Wireless M-Bus is fast becoming a standard for bringing communication to existing metering applications, from heat cost allocators to gas and water meters. The benefits of being able to remotely collect meter status and energy usage data are universally recognised. However, a crucial factor in the effectiveness of wireless solutions is ultra-low energy use, enabling the meter to stay online using only one battery for up to 20 years.
The new "Connect it! – Wireless M-Bus" kits are based on the super low power RL78 family of devices, more specifically the RL78/G13, adding transceivers from Analog Devices ADF7023 and ADF7021-N. The hardware in the solution kit includes the RPB78G13 prototyping board, an adapter board and the transceiver boards mentioned earlier. This Renesas prototyping board (RPB) gives engineers full access to all device pins and can easily be extended to add a custom application. Moreover, the RPB is already equipped with a USB port with an integrated flash programmer for the RL78/G13 device.
A Wireless M-Bus stack that is fully compliant with EN13757-42013 and Open Metering System (OMS) group specifications has been made available by Stackforce GmbH. This software stack comes with a serial API and runs on the RL78/G13. It offers a fully functioning Wireless M-Bus modem as factory default product.
As the software is completely RL78 agnostic, any design based on the RL78/G13, a general purpose RL78 device, can be ported easily to any other RL78 device, to match the target application requirements. The solution includes an intuitive PC graphical user interface (GUI), providing engineers during the design phase all the feedback they need from the Wireless M-Bus environment.
Renesas will launch the "Connect it! – Wireless M-Bus" kits on its stand at the European Utility Week 2014 show, which takes place in Amsterdam from November 4th to 6th (Hall 4, stand F26). Other kits will also be showcased on Renesas' stand at Electronica 2014 in November (Hall A6, Stand 243). With the Renesas trade fair theme 'Connect with Tomorrow', the kit solutions will be a central focus.
Renesas Electronics Europe
www.renesas.eu/wmbus